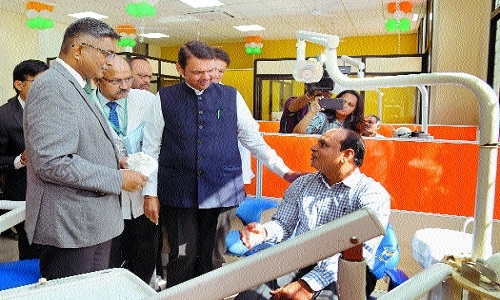 Staff Reporter
Taking serious cognizance of rising cases of oral diseases, oral cancer, Maharashtra's Deputy Chief Minister Devendra Fadnavis has assured to provide more funds for oral healthcare. He was speaking at Government Dental College and Hospital (GDCH) on Wednesday. He dedicated 'Mucormycosis Rehabilitation Centre', 'Centre of Excellence 3D printing in dentistry' and then interacted with students.
Dean of Government Medical College and Hospital (GMCH), Dr Raj Gajbhiye, Dean of Government Dental College and Hospital (GDCH) Dr Abhay Datarkar, MLA Mohan Mate, MLC Pravin Datke, District Collector Dr Vipin Itankar were present on this occasion.
"The ill habits like consumption of paan, gutkha, tobacco lead to cases of oral cancer in parts of Nagpur, Vidarbha, Central India. In this regard, we had conducted public awareness campaign in areas like Gadchiroli. How much it
impacted we don't know but the statistics about the disease show how dangerous the disease is. Unfortunately, Central India is leading in the cases of oral cancer.
Considering all these aspects, State Government is mulling over conducting a planned drive to reduce the cases of this disease," said Fadnavis. Fadnavis expressed satisfaction over friendly ambience at GDCH, GMCH and Indira Gandhi Government Medical College and Hospital (IGGMCH) as experienced by common citizens visiting these health facilities. Fadnavis informed the audience that Collector Dr Vipin Itankar was asked to study the necessities of these health centres. "Dr Itankar has submitted an inclusive proposal regarding the development of the health centres. We will develop top class basic infrastructure to strengthen these health centres," explained Fadnavis.
Fadnavis stated, "Rs 350 crore have been granted for the modernisation of GMCH while Rs 300 crore are sanctioned to IGGMCH. We have sanctioned modern hostel to GDCH which it has demanded. GDCH will get new hospital, new hostel but it should maintain its standard." MLA Mohan Mate, Dr Raj Gajbhiye also addressed on this occasion. Dr Abhay Datarkar gave introductory speech while Dr Vaibhav Karemore conducted the proceedings.