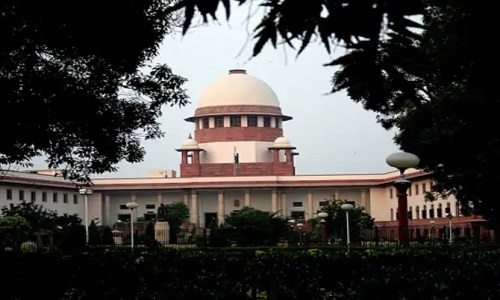 NEW DELHI,
THE Supreme Court on Wednesday said that the inclusion of the Chief Justice of India (CJI) in the consultative process for the appointment of Chief Election Commissioner (CEC) would ensure independence of the poll panel.
The apex court was of the view that any ruling party at the Centre "likes to perpetuate itself in power" and can appoint a 'Yes Man' to the post under the current system. The court was hearing a batch of pleas seeking a collegium-like system for appointment of Election Commissioners and Chief Election Commissioner (CEC).
The Centre argued that a 1991 Act ensured the Election Commission remains independent in terms of salary and tenure to its members and there is no "trigger point" which warrants interference from the court It said that the mechanism adopted for appointment of Chief Election Commissioner (CEC) is seniority among the election commissioners, who are appointed by convention from Secretary or Chief Secretary level officers of the Centre and State level, respectively.
However, a five-judge Constitution bench headed by Justice K M Joseph , also comprising justices Ajay Rastogi, Aniruddha Bose, Hrishikesh Roy and C T Ravikumar, said, the independence of the institution should be ensured at the threshold for which the appointment should be scanned at the entry level.
Attorney General R Venkataramani, appearing for the Centre pointed out that the Election Commission (Conditions of Service of Election Commissioners and Transaction of Business) Act, 1991 was a watershed moment that ensured independence in salary and tenure to the ECs. The Supreme Court asked the Centre to produce before it the file related to the appointment of Election Commissioner Arun Goel, who was appointed on November 19.
A five-judge Constitution bench said, it wants to know whether there was any "hanky panky" in Goel's appointment as Election Commissioner as he was only recently given voluntary retirement from service. The bench rejected the objections of Attorney General (AG) R Venkataramani on the court willing to see the file related to Goel's appointment while the hearing is on.