Gehlot's differences with Pilot to be resolvedin manner that strengthens party: Congress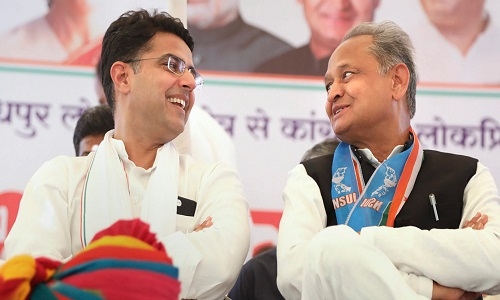 NEW DELHI,
ASRAJASTHAN Chief Minister Ashok Gehlot stepped up his attackonhisbetenoire Sachin Pilot,theCongressonThursday saidtheirdifferenceswouldbe resolved in a manner that strengthens the party and asserted that the focus right now should be on the success of the 'Bharat Jodo Yatra'. "AshokGehlotisaseniorand experienced political leader.
Whatever differences he has expressedwithhisyoungercolleague Sachin Pilot will be resolved in a manner that strengthens the Congress party," AICC General Secretary communications Jairam Ramesh said in a statement. "Right now it is the duty of each and every Congressman and Congresswoman to make the already hugely successful 'Bharat Jodo Yatra' even more impactful in north Indian States," he also said. Ahead of Rahul Gandhi's Bharat Jodo Yatra entering Rajasthan, factionalism has once again come to the fore in the StateCongress. In an interview with 'NDTV', Chief Minister Ashok Gehlot launchedascathing attack on hisformerDeputySachinPilot, saying 'a gaddar (traitor) cannot be the Chief Minister'. "How can people accept a man who does not have even 10 MLAs... Someone who rebelled against the party and has been named a traitor," Gehlotsaid.
Meanwhile,hitting back at Rajashthan CM Ashok Gehlotforhis'traitor'barb,senior Congress leader Sachin Pilot said it was unbecoming of an experiencedperson like himto use such language and the priority should be to fight unitedly to defeat the BJP as well as strengthen Rahul Gandhi's hand.PilotsaidGehlothasbeen callinghim'nikamma,naakara, gaddarandsoon'butitwasnot part of his upbringing to use such language