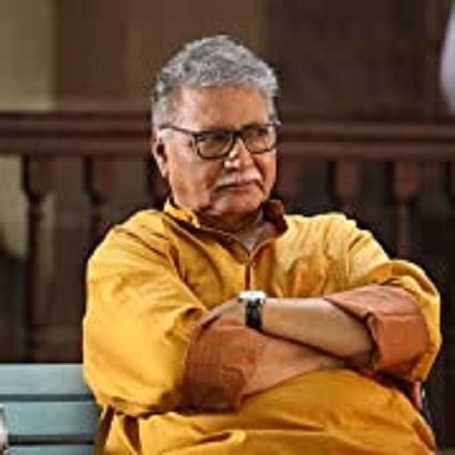 MUMBAI :
Vikram Gokhale was the son of Chandrakant Gokhale, a Marathi theatre and film performer and his great-grandmother, Durgabai Kamat, was the first female actor on the Indian screen. His grandmother Kamlabai Gokhale was the first female child actor in Indian cinema.
MAHARASHTRA Governor B S Koshyari on Saturday remembered veteran actor Vikram Gokhale as the extraordinary actor who set standards for good acting with his skills. "Vikram Gokhale was an extraordinary actor known for his remarkable acting skills. Gokhale set standards for good acting with his trademark style and dialogue delivery. He played stellar roles in many films and dramas. Some films and dramas are remembered mainly because of his acting," the Governor said in a condolence message. He said Gokhale expressed himself fearlessly on social issues. "I had the good fortune of meeting him recently on August 15. Unfortunately, that meeting proved to be our last meeting. My homage to the great actor," he said.
AKSHAY KUMAR, MANOJ BAJPAYEE MOURN VIKRAM GOKHALE'S DEATH: Akshay Kumar, Manoj Bajpayee and Raveena Tandon were among the stars of Indian cinema who on Saturday remembered veteran actor Vikram Gokhale, who died at a Pune hospital. Gokhale, known for several Marathi and Bollywood films including Amitabh Bachchan-starrer "Agneepath" (1990), "Bhool Bhulaiyaa" (2007), "Natsamrat" (2015) and "Mission Mangal" (2019). Kumar said he learned a lot from the veteran actor when he worked with him in movies such as "Bhool Bhulaiyaa" and "Mission Mangal". "Very sad to know of the demise of Vikram Gokhale ji. Worked with him in films like Bhool Bhulaiyaa, Mission Mangal, had so much to learn from him. Om Shanti," he tweeted. Indian cinema lost a gem of an actor, said Bajpayee. "Had the privilege of working with him in 'Aiyaary' and shared a few great moments with him on the set! Saddened to hear about Shri Vikram Gokhale ji's demise. My thoughts & prayers are with the family," the actor said. Chef and actor Ranveer Brar tweeted, "Loss of a supremely amazing artist.. Om Shanti RIP #VikramGokhale." Sharing a post about Gokhale's death, Tandon tweeted, "Om Shanti".