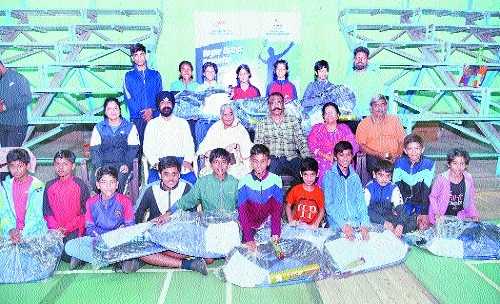 Sports Reporter
YOUNG Aditya Yaul clinched twin titles in Nagpur District Under-11 and Under-13 Badminton Tournament organised by Nagpur District Badminton Association (NDBA) at Subhedar Hall, on Sunday.
Aditya won Under-11 boys singles title defeating Mayank Rajput 21-14, 21-10 and in the Under-13 singles, he was too good for Aarav Thakre winning again in straight games 21-12, 21-4.
Vaishnavi Manglekar walked away with the Under-11 crown beating Sanvi Ghate 21-6, 21-5. In Under-13 final, Aarya Bhujade defeated Grishma Kaishalwar 21-13, 21-7.
NDBA President Kundatai Vijaykar, Secretary Mangesh Kashikar, Devyani Kashikar, Anant Apte, Gurdeep Singh Arora and Madhvi Kashikar distributed the prizes. Aditya Galande was chief referee.
Other Results (finals)
U-13 boys doubles: Naitik Patel-Neel Lanjewar bt Adhiraj Bhusari-Aditya Ghate 21-11, 21-19. U-13 girls doubles: Grishma Kaishawar-Yukti Shende bt Anvee Wajgi-Dharra Bhandari 21-16, 16-21, 21-17.