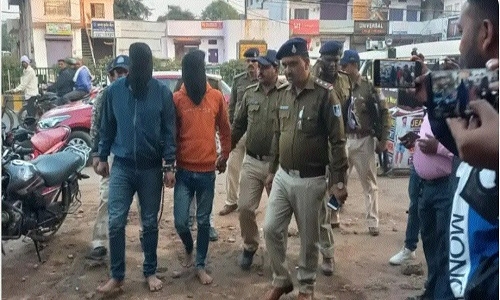 Our Correspondent
Katni,
Police have succeeded in apprehending two of the six accused involved in dacoity at Manappuram Gold Finance in Katni and seized two motorcycles, a country-made revolver, a live cartridge and Rs 20,000 of looted cash from them. The accused were apprehended by the combine team of Niwas (Mandla district) and Katni police. Total 12 teams are continuing rigorous searches at probable spots in different districts of Madhya Pradesh, Uttar Pradesh and Bihar for apprehending four more accused of the loot incident.
Two arrested have been identified as Shubham Tiwari (24), son of Rajesh Tiwari, native of Patna in Bihar and Ankush Sahu alias Vivek (25), son of Anil Kumar Sahu of Buxar in Bihar while four absconding accused have been identified as Akhilesh alias Vikas alias John of Vaishali in Bihar, Arjun alias Piyush alias Ayush Jaiswal of Patna in Bihar, Mithilesh alias Dharmendra Pal of Buxar in Bihar and Amit Singh alias Vikky of Hajipur, Vaishali in Bihar.
It may be noted that, on November 26, six unidentified men conducted dacoity at Manappuram Gold Finance on the tip of firearms and escaped with cash of Rs. 3.56 lakh and mortgaged gold of customers. Manager, Amar Sondhia lodged a complaint at Rangnathan Nagar police station.
Police had registered a case under Section 395 of IPC and SP, Katni, Sunil Kumar Jain (IPS) had constituted a combine team for apprehending the accused. DGP, Madhya Pradesh Police, Sudhir Saxena (IPS), Additional DGP (Jabalpur Range), Umesh Joga (IPS) and DIG (Jabalpur), RRS Parihar released directions to SPs for taking prompt action to check the escaping of accused in Katni, Jabalpur, Mandla, Dindori, Bilaspur and adjoining districts.
On the basis of CCTV footages, accused were spotted at Majhgavan heading towards Kundam and Jabalpur. Kundam police found the accused on two motorcycles moving towards Niwas and started chasing them.
Receiving the information, Niwas police came in action and nabbed two of the accused riding on a motorcycle while persons on second motorcycle managed to escape and left behind their motorcycle. The arrested have been identified as Shubham Tiwari and Ankush Sahu.
In the interrogation, the accused confessed dacoity and disclosed the names of four more accomplices. Police have retrieved Rs 20,000 of the looted cash and two motorcycles used in the dacoity.