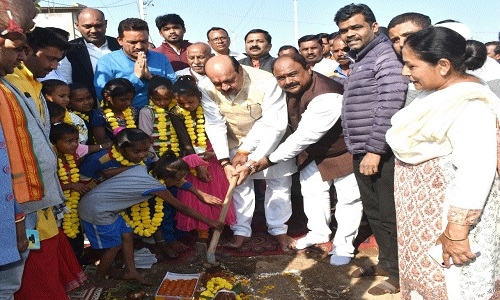 Staff Reporter
Mayor Jagat Bahadur Singh along with MLA Ashok Rohani, on Monday performed bhoomipujan for a number of development works in Cantt Assembly. The duo started as many as 14 construction works in the Assembly worth Rs 9.66 crores.
Speaking on the occasion, the Mayor and the MLA said Tilhari Vishthapith Basti, the area where a number of citizens who have been displaced from different localities of the city reside also comes under Cantt. Assembly. Hence to provide better basic amenities to these people, the Municipal Corporation has also started various construction works in the area.
Giving information about the development works to be conducted in the Assembly, Mayor Singh and MLA Rohani informed that repairing and painting of hawker zone located at Bada Patthar in Ranchi, cement concrete work on Saraswati Shishu Mandir, nullah construction towards Shanti Nagar VFJ, beautification of Sharda Nagar garden and construction of boundary wall, construction of M-3, CC Road and drain in Gokalpur along with allied development works will be executed in New Shobhapur, Chandra-shekhar Azad ward, Lala Lajpat Rai ward, Tulsi Nagar, Champa Nagar, Saraswati school, Subhash Nagar, Mundi Toria, Rani Avanti Bai ward and Maharani Lakshmi Bai, ward of Cantt. Assembly. Rohani said the State government is providing all possible help for overall development of the city. He said with the aid the local bodies will carry out all necessary works in the city including areas under the Cantt. Assembly.