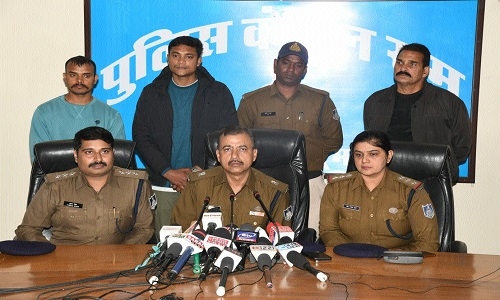 Staff Reporter
Madhotal police have solved the blind murder mystery of an elderly man and arrested three accused. The man was strangulated for seducing persons and blackmailing them for exposing in the society. The arrested have been identified as Devendra Sen Gudda Sen (18), a resident of Karmeta; Manish Chadhar Ramkumar Chadhar (24) of Sukha Talab in Madhotal and Santosh Yadav Summera Lal Yadav (42), a resident of Madhotal.
Additional SP (City South), Sanjay Kumar Agrawal disclosed this while addressing a press conference, on Monday. He added that the body of Munna Lal Kushwaha (63), a resident of Madhotal and retired employee of ITI was found under mysterious circumstances at a farm at Patan by-pass, on November 9. In prima facie of the investigation, police learnt that the deceased went for sleeping at his farm as regular practice. Next day morning, the elderly man was found dead. Post-mortem report confirmed that the man was strangulated by unidentified person.
Madhotal police had registered a case under Section 302 of the IPC and started investigation into the case.
Investigating the case, police took statement of around 50 persons and held doubt on statements of three men Devendra Sen, Manish Chadhar and Santosh Yadav who tried to mislead the police. In a thorough questioning, police learnt that Devendra Sen was in contact with deceased since 3 years while deceased used to visit at saloon of Devendra Sen. Deceased made physical relations with them and some other boys. When they objected them for the same, deceased Munna Lal started blackmailing them for exposing their relation in the society. On November 8, Munnalal Patel reached for haircut at saloon of Devendra Sen and told him for coming at farm in the evening. In the evening, Santosh Yadav reached at saloon and said for reaching at farm of Munna Lal who made physical relation with them. Thereafter, Devendra Sen, Manish Chadhar and Santosh Yadav who were annoyed with the act of Munna Lal planned to kill him. As per their planning, they reached at farm of Munna Lal when he was sleeping at the farm. Devendra caught the legs of Munna Lal and Santosh attacked on his thighs with a cane and Manish Chadhar strangulated him. They dragged the body at a farm and returned their homes. Police have seized physical evidences from the spot and produced the accused before the court.