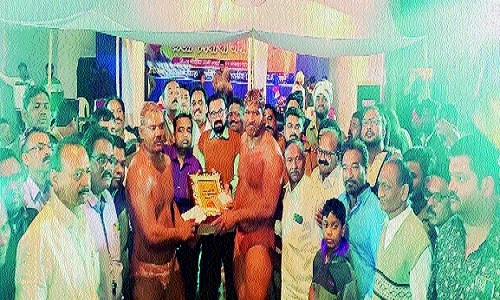 Jawaharlal Darda Memorial Wrestling
Digambar Bhutnar of Hingoli and Vaibhav Mane of Pune shared honours as they were jointly declared winners of the Kata Kushti Dangal, which was organised to mark 25th death anniversary of veteran freedom fighter and founder editor of Lokmat Media Group Jawaharlal Darda alias 'Babuji' at the local Hanuman Akhada in Yavatmal.
More than 400 wrestlers from Delhi, Haryana, Parbhani, Latur, Hingoli, Nanded, Kolhapur, Pune, Satara, Akola and Amravati participated in the competition, which was organised under the aegis of the Yavatmal District Wrestling Association and carried a prize money of Rs 7 lakh.
Digambar and Vaibhav their mettle but no result came out in the 35-minute encounter, the judges declared both of them as joint winners. Both became richer by Rs 51,000.
Dhanaji Koli of Pune won second prize of Rs 41,000 as his rival Dadumiya Mulani of Kurudwadi got injured midway.
The most surprising bout in this event took place for the eighth place. Shankar of Hanuman Akhada, Yavatmal, overpowered Vinod of Washim in just one minute.
District Congress President Adv Prafulla Mankar, District Cooperative Bank Director Manish Patil, Shiv Sena district chief Santosh Dhawale, Kishor Ingale, former city president Balasaheb Choudhary, AAP's Vidarbha chief Bhai Aman, District Jail Superintendent Rathod, Agricultural Produce Marketing Committee chairman Ravi Dhok, Atul Mangulkar, Nitin Mirzapure were present on the occasion. Yavatmal District Wrestling Association secretary Anil Pande, Uddhav Bakde, Mohammad Shakeel, Dhananjay Lokhande, Anand Jadhav, Sandeep Neware were the judges.
Sr national Meet neXt year President of Maharashtra Wrestling Association, MP Ramdas Tadas, and chairman of editorial board of Lokmat Media and former member of Rajya Sabha Vijay Darda announced that next year, the Senior National wrestling will be organised in Yavatmal.