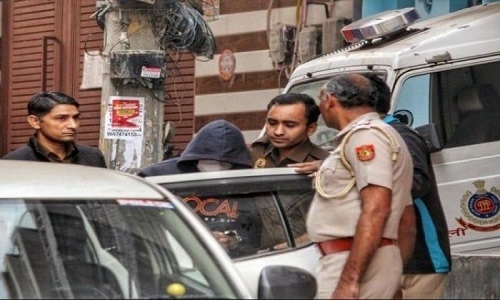 NEW DELHI,
THE Delhi Police has recovered the weapon allegedly used by Aftab Amin Poonawala to cut the body of his live-in partner Shraddha Walkar, sources said on Monday. Police have also recovered a ring that belonged to 27-year-old Walkar, which Poonawala allegedly gave to another woman, they said.
"The weapon used to cut Shraddha Walkar's body has been recovered by police," a source said. The remaining sessions of Poonawala's polygraph test are underway at the Forensic Science Laboratory (FSL) in Rohini, the sources said, adding that he arrived at the lab at 9:50 am and the sessions began around 11 am.
POLICE VAN ATTACKED: A POLICE van carrying Aftab Poonawala, accused of killing his live-in partner, was attacked by some weapon-wielding people outside the Forensic Science Laboratory in Rohini where he was taken for a polygraph test on Monday, sources said.