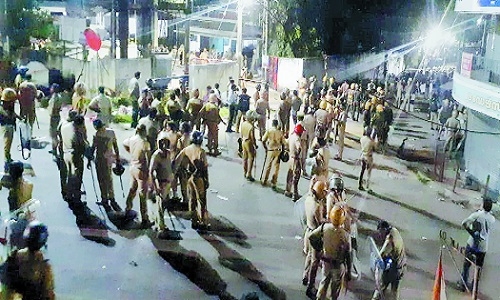 THIRUVANANTHAPURAM,
OVER 3,000 persons have been booked under unlawful assembly, rioting and criminal conspiracy charges on Monday in connection with the violent attack on the Vizhinjam police station on Sunday night as part of protest against the under-construction Adani port.
In the FIR, police have registered a case against 3,000 identifiable persons including women and children for vandalising the station and injuring police personnel. As many as 40 police personnel and numerous locals were reported to be injured in the violence that ensued.
Police said, around 3,000 people gathered at the Vizhinjam police station demanding release of one accused in a case registered on Saturday and other suspects, Leo Stanley, Muthappan, Pushparaj and Shanki, who were under custody.
"The mob reached the police station at around 6 PM with iron rods, sticks, stones and bricks and created a hostage situation inside the police station. They threatened to set the police station ablaze if the accused were not released. They damaged five police vehicles and destroyed the office equipment inside the police station," the FIR said. It also states that there was a loss of around Rs 85 lakh due to the attack. Sections of IPC including 143 (unlawful assembly), 147 (rioting), 120-B (criminal conspiracy), 447 (criminal trespass) and 353 (Assault on public servant) have been invoked. Thiruvananthapuram City Police Commissioner told the media that the attack on the police station cannot be justified at all.
"We had already deployed enough police personnel. Attack on the police station cannot be justified. The people reached the station demanding to release one person who was charged under Section 307 of the IPC," the Commissioner said.