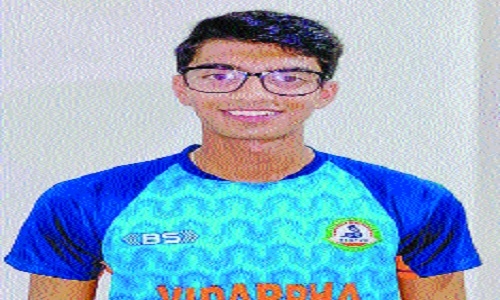 Sports Reporter
VIDARBHA bowlers, led by seamer Pratham Maheshwari, who returned with a five-wicket haul in the second innings, took 16 wickets on third day of the match to thrash Bihar by an innings and 356 runs in their Cooch Behar Trophy match at Urja Stadium in Patna on Monday.
With three outright wins and a first innings lead, former champions Vidarbha are leading the Group C with 23 points, way ahead of second placed Andhra, who have 17 points form as many games.
Starting third day of their fourth round match with hosts trailing by 566 runs and reeling at 125-4 in the first innings, Vidarbha bowlers hunted in group to snare 16 wickets for 210 cumulative runs in 73.2 overs.
In response to Vidarbha's massive first innings score of 691-5, Bihar made 177 and 158 in their innings.
After Maheshwari had given a great start picking top three batters a day earlier, left-arm seamer Rajsingh Chauhan was on fire on Monday morning. He picked three of the five wickets in quick succession as Bihar innings folded playing 19 more overs and adding just 52 runs to their overnight score.
Vidarbha promptly asked them to bat again. Twice in two days, Maheshwari (13-3-29-5) gave the team an ideal start. He again picked three of the top four to rattle Bihar second innings. They were already looking down the barrel with three gone for just 19 on the board in 7.3 overs. Two batters, opener Animesh Kumar and Virat Pandey, were castled by Maheshwari on his first two balls (second over of the match) for ducks with the bowler on a hat-trick.
Though skipper Ayush Anand denied him that little landmark, the bowler soon had him lbw for ten. He later returned to add two more to finish the match with fine figures of 8-73.
Varun Raj Singh Bisht (2-15), Ashit Singh (2-34) and Dharmendra Thakur (1-28) share the remaining wickets.
Brief scores: Vidarbha 691-5d in 135.2 overs (R Binkar 217, D Malewar 300*, Jagjot 79; P Chaubey 2-142) bt Bihar 177 AO in 59 overs (Harshit 48; R Chauhan 3-67, P Maheshwari 3-44) and 158 AO in 54.2 overs (Harshit 46; P Maheshwari 5-29) by an innings and 356 runs.