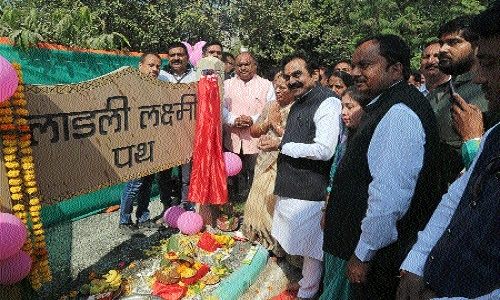 Staff Reporter
The second day of 7-day celebration of Madhya Pradesh Foundation Day was marked with 'Ladli Laxmi Utsav' on Wednesday. During celebration, Ladli Laxmi Vatika and Ladli Laxmi Path were inaugurated. Simultaneously, a district-level programme was organised at Manas Bhavan for State-wide inauguration of Ladli Laxmi Yojana 2.0.
Member of Parliament, Rakesh Singh graced the district-level programme as chief guest while MLA Ajay Vishnoi, Ashok Rohani, District Panchayat President, Santosh Barkade, Municipal President, Rikunj Vij, Leader of Opposition, JMC, Kamlesh Agrawal, District Collector Dr. Ilaiyaraja T especially attended the programme.
In his address, MP Singh expressed satisfaction that Ladli Laxmi Yojana initiated by Chief Minister Shivraj Singh Chouhan, is serving its purpose to enable the girls of poor families to pursue best education, become independent and achieve their dreams which earlier, was not less than a dream for them.
He said that though kanya-pujan was always a tradition in India but nobody considered about their future. Thanks to Prime Minister of India, Narendra Modi and Chief Minister, Chouhan who took initiative to ensure a bright promising future for the girls. Even the girls have proved their mettle in every field which was earlier dominated by their male counterparts.
MLA Vishnoi thanked the Chief Minister's foresightedness to empower the girls through Ladali Laxmi Yojana.
MLA, Rohani proudly informed that initiated by Chief Minister Chouhan, now Ladali Laxmi Yojana is implemented in 10 Statea in the country. He congratulated all the Ladalis for Ladali Laxmi Yojana 2.0 and expressed his gratitude towards the Chief Minister. Live telecast of CM Chouhan's address during State-level programme held at Ravindra Bhavan, Bhopal, was also conducted. The Chief Minister through a single click, deposited fund of Rs. 1,85,00,000 in the accounts of 1,477 Ladlis including 31 from Jabalpur district.
Earlier, MP Singh inaugurated Ladli Laxmi Vatika near Shivnagar on Damohnaka- Deendayal Chowk Marg and Ladli Laxmi Path between Madan Mahal Railway Station and Kachpura Link Road. Member of Parliament (Rajya Sabha), Sumitra Valmiki, JMC Commissioner, Ashish Vashist and public representatives were also present.