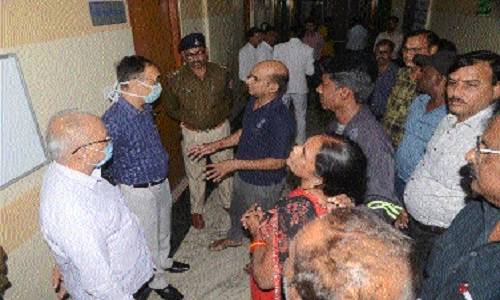 Staff Reporter
Ruckus was created at Railway Hospital when railway employees and relatives staged protest against medical staff of Railway Hospital against the suspicious death of assistant loco pilot, on Wednesday.
Uproar was created when Assistant Loco Pilot Atul Patel (33) was rushed at Railway Hospital on oxygen support where his oxygen supply was allegedly discontinued and the patient died due to breathlessness. It was informed that Atul Patel, posted as Assistant Loco Pilot at West Central Railway was critically injured in a road accident two months back. He was undergoing treatment at Metro Hospital for 25-26 days. Thereafter, he was admitted at Railway Hospital and referred at Jabalpur Hospital but his condition could not improve.
The patient was taken to Nagpur for treatment by his relatives where his condition improved and he returned home on November 1. On Wednesday, Atul felt uneasiness and he was immediately rushed to the Railway Hospital where he died before his admission at the hospital. Family members of deceased charged that Atul was taken at hospital on oxygen support but careless medical staff shifted him into hospital without oxygen support. When they insisted for providing oxygen to the patient, medical staff installed an empty oxygen cylinder. Before the oxygen supply was resumed Atul was dead due to breathlessness. Learning about the incident, a large number of loco pilots and office-bearers of West Central Railway Employees Union reached the hospital and staged protest against medical administration and charged that the medical staff was on duty in drunken stupor. RPF and GRP personnel were called on the spot to control the agitation and avoiding any kind of untoward incident.
Pointing out the gravity of situation, DRM Jabalpur ordered an inquiry and constituted a three members committee comprised of RPF Commandant, Ashok Tripathi, Dr. Sandeep Chouhan and Dr. Kamlesh for inquiring into the matter. Besides this, breath analyzer test and blood sampling of medical staffers was carried out on the demand of deceased's relatives.
DRM, constituted a team comprised of Three officers RPF, Ashok Tripathi, Dr Sandeep Chouhan, Dr. Kamlesh, RPF Commandant Ashok Tripathi.