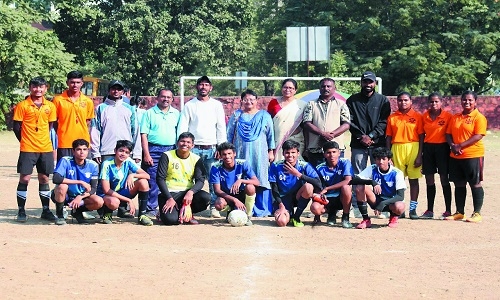 CENTRE Point School Wardhaman Nagar and Dabha branch won the boys titles while St Ursula girls emerged winners in DSO organised inter-school futsal meet.
In the U-19 boys final, CPS beat Narayana Vidyalayam by four goals to emerge champions while in U-17 age category, CPS Dabha beat the CPS Wardhaman Nagar 4-0.
In girls U-17 final, St Ursula beat Kids World by a solitary goal to clinch the crown. St Ursula Principal Rachna Singh, Clifford Naidu, Aaron Carton, Adarsh Dhengre, Noel Joseph, Inderjeet Singh, Rahul Neware, Virendra Baghel and others were present during the prize distribution function. Other results Rural: U-17 girls: Pragatik Vidyalaya bt Jain International School 7-0. U-17 boys: Sartaswati Vidyalaya, Koradi bt Jain International School 2-0.