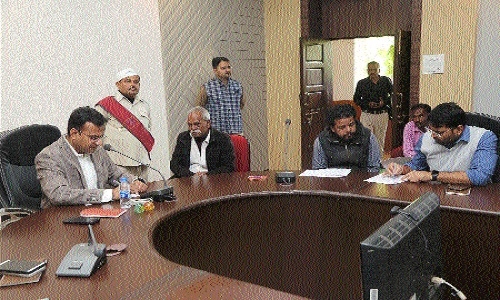 Staff Reporter
Harassed and helpless persons who reached to seek help from the Collector during Jansunvai expressed their gratitude towards Collector, Saurabh Kumar Suman for his noble gesture, on Tuesday.
Weekly Jansunvai at Collectorate has been completely transformed with the unique initiative of Collector, Saurabh Kumar Suman. Even after a huge gathering of appellants, the Jansunvai was completed till 1:30 pm.
Collector Saurabh Kumar Suman, pointed out the inconvenience of appellants arrived from rural and far-flung areas to register their complaint during Jansunvai.
He started token system for the appellants and made adequate sitting arrangements by providing separate chairs at the premises. Besides this, the appellants who waited for their term for several hours were given refreshment as tea and biscuits.
Now the appellants including elderly and disable persons have no need to be standing while narrating their problems as separate sitting arrangement has been made adjacent to the seats of Collector, CEO of Jila Panchayat, Additional Collectors and other Senior Administrative Officers.
Along with this, the appellants were given computerized receiving of their complaints with complete details of appellants. The computerized print also has link of Uttara Portal for checking updates of resolving their complaints.