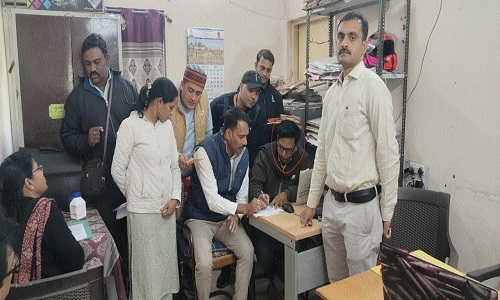 Staff Reporter
Sleuths of Lokayukta Police special establishment, Jabalpur caught a Junior Engineer of Madhya Pradesh Poorva Kshetra Vidyut Vitran Company, Garha-2 in Tewar while taking bribe of Rs 13,000 for providing 5 HP electricity connection for agriculture purpose at office of Assistant Engineer, Purva Sub Division in Medical area, on Tuesday.
The accused has been identified as Laxmi Narayan Patil, posted as Junior Engineer, Feeder In-charge Garha-2 Tewar. DSP Lokayukta Dilip Jharbade informed that an appellant named Moolchand Patel Kushwaha (50), son of late Shatanand Patel, resident of Tilwara Ghat road Jabalpur lodged a complaint with the Superintendent of Police, Lokayukta Jabalpur, Sanjay Sahu that he had filed an application for taking 5 HP electricity connection for agriculture purpose.
He several times contacted at office of Assistant Engineer at Sub Division, Purva when a Junior Engineer named Laxmi Narayan Patil demanded bribe of Rs. 13,000 for providing him desired permanent connection.
Taking a serious note on the complaint, SP, Lokayukta constituted a team and fielded the appellant for collecting evidences. Once the information was verified, Lokayukta police team led by DSP, Dilip Jharbade comprised of Inspector, Swapnil Das, Inspector, Manju Tirkey, Inspector, Ranjit Singh and team reached at tehsil office and trapped the corrupt Junior Engineer while taking the bribe of Rs. 13,000 from the appellant. Lokayukta police have registered a case against the corrupt government employee under relevant Sections of Prevention of Corruption Act while further investigations are underway.