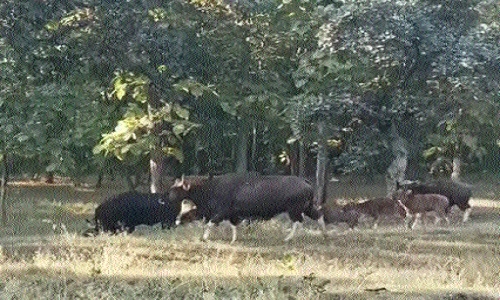 Our Correspondent
SEONI,
Pench National Park is one of the six tiger reserves of Madhya Pradesh. Park is not only recognised for tigers but also as the character of 'Jungle Book' Bagheera i.e. Black Panther (Leopard). Now herd of Bison (Gaur) is also increasing in this park, which is thrilling the tourists. There are more than 3,000 bison in the park. Little guests have also arrived in the last few days. In such a situation, number of bison has gone up. There are three to four cubs in a herd of 8 to 10 adults. Pench's Deputy Director, Rajneesh Kumar Singh said that the next generation of bison has arrived in Pench. The park is currently full of young children of 'Gaur'. Tourists are watching those who graze with their herds, roaming in the green meadows. Tourists are thrilled to see Bison along with Black Panther and Tigers. Since the opening of the park, the number of tourists has also increased. The upper part of adult bison is black, legs are white.
The body color of adult bison and children found in Pench is being seen differently. The upper part of the adult bison is black, while the legs are white. Like they are wearing white socks on their feet. There, wearing a black coat on top. On the other hand, the upper part of the children is brown, while the feet are white. They live in herds to avoid the tiger-panther. Adult members of the bison family are also keeping the kids in the herd. Actually, there are more than 60 tigers along with black panther in Pench. At the same time, there are other carnivorous animals as well. To protect against these, the kids always herd with the adults.
There is also a bison in the Van Vihar National Park in the capital Bhopal. There are two bison here, who live in a large enclosure. Pench Tiger Reserve is located in Chhindwara and Seoni district of Madhya Pradesh. Its name is derived from the Pench River, which flows through this tiger reserve. The Pench River flows from north to south which divides the Tiger Reserve equally into Chhindwara and Seoni Districts into eastern and western parts. Wild guars, tigers, leopards, monkeys and deer could be easily seen in this tiger reserve. This tiger reserve is near National Highway No. 7 Pauni and very close to Maharashtra and Nagpur. There are two famous gates for the entry of tourists, which are named as Turia and Karmjhiri.