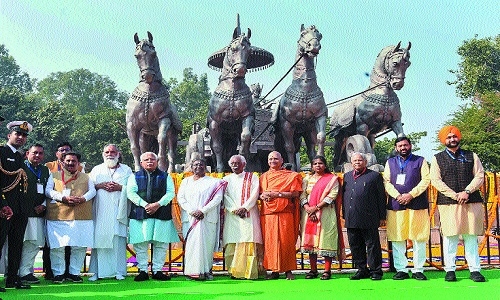 KURUKSHETRA,
PRESIDENT Draupadi Murmu on Tuesday stressed imbibing the teachings of 'Bhagavad Gita', saying it is a book whose messages spread hope in despair and also give solutions to all doubts of practical life.
President Murmu, who is on a two-day visit to Haryana to attend various programmes, on Tuesday inaugurated the International Gita Festival -2022 organised on the banks of Brahma Sarovar here.
She offered prayers amidst chanting of mantras at Brahma Sarovar and also offered flowers on the holy religious scripture Gita as she performed the 'yagna' near Lord Shri Krishna's huge chariot idol located at Purushottampura Bagh.
She was accompanied by Haryana Governor Bandaru Dattatreya and Haryana Chief Minister Manohar Lal Khattar.
The President launched a Nirogi Haryana scheme, an e-ticketing system in Haryana Transport and virtually laid the foundation stone of a medical college in Sirsa district to be built at an estimated cost of Rs 950 crore. She also participated in the International Gita Seminar.
Addressing the gathering, President Murmu said that she was happy to be here and lauded the State Government for organising the International Gita Festival and for the launch of the Nirogi Haryana scheme, e-ticketing system and upcoming medical college at Sirsa.