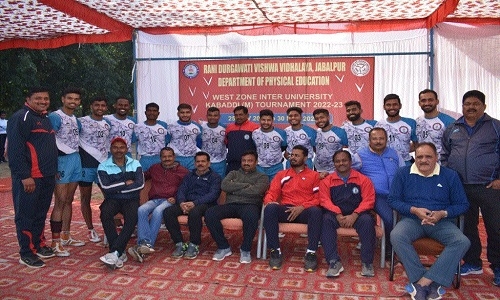 Sports Reporter
Rani Durgawati University Jabalpur team created history by securing berth in semi-final round of West Zone Inter University Men's Kabaddi Tournament, on Tuesday. The tournament is being organized under the auspices of Rani Durgawati University, Department of Physical Education.
Along with the RDU Jabalpur, Kota, Aurangabad and Kolhapur University teams have also qualified for the semi-final round.
On fifth day of the tournament, RDU Jabalpur played its qualifying match against Gondwana University Garhchirauli team. Players of Jabalpur team exhibited their superb skills in raiding, catching, corner and centre and registered a historic victory over the opponent team by a long margin of 52 – 38 points and qualified for semi-final round.
Second qualifying match was played between Dr BAM University Aurangabad and Bharatiya Vidyapeeth Pune teams. In the closely played match Aurangabad team routed the opponent by the lead of 42 – 37 points.
In the first league march, Jabalpur team registered a sensational victory over University of Kota by the lead of 34 – 30 points and earned precious 3 points in its tally. In second league match, Aurangabad University team routed Kolhapur University team by the difference of 36 – 23 points and secured 3 points.
On November 30, two league matches will be played in morning and two other matches will be played in evening session. Special guests during the qualifying matches were Professor RK Yadav, former Director, Senior Sports Officers, Dr Rajendra Singh Rajput and Dr Shakti Singh Mandloi.