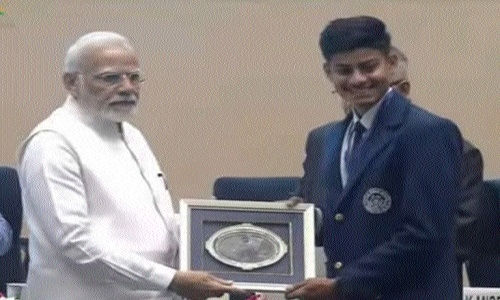 Staff Reporter
Bringing a proud moment for Sanskardhani, Akshat Pandey, a class XII student of Little World School, Tilwara, received the first prize at the hands of Prime Minister of India Narendra Modi for his impressive essay on 'Corruption Free India-Developed India'.
It may be mentioned that Central Vigilance Commission, New Delhi, instructed to organise an essay writing competition in all the CBSE schools on the theme 'Corruption Free India-Developed India' which was participated by around 7,65,000 students from across the country. Akshat's essay was selected among the top 05 essays received from across the nation and later on announced first.
Central Vigilance Commission invited Akshat to participate in the grand award ceremony held at Vigyan Bhavan at New Delhi on Thursday, in which Prime Minister, Narendra Modi was invited as the chief guest for the programme. Prime Minister Modi awarded Akshat with a memento and appreciation letter.
Jyotsana and Radhakrishna Pandey are the proud parents of Akshat who supported and encouraged him.
Patron, Little World School, Anjali Dubey congratulated Akshat for his outstanding achievement. CEO, Chitrangi Iyer, Principal, Paridhi Bhargava and Headmistress Savita Adlakha, his family members and friends expressed pleasure and extended their best wishes for Akshat's bright future.