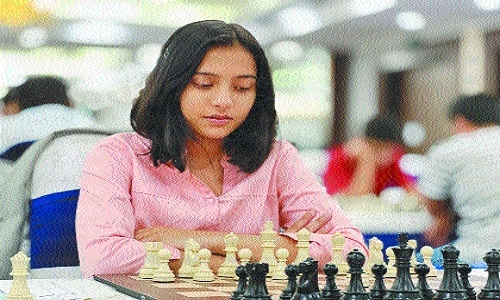 Principal Correspondent
WOMAN Grandmaster Divya Deshmukh clinched a gold and a bronze medal for India at the Asian Continental Chess Championship which was held at New Delhi.
The 17-year-old Nagpur girl did the country and city proud by claiming two medals at the competition which saw participation from 10 countries and 50 players. WGM Divya won gold for India in the Women's Blitz category while finished a creditable third in the Standard section. What was heartening is the way Divya fought her way back to the top after starting with a loss in the Blitz competition.
With seven wins, a draw and a loss, Divya garnered 7.5 points to emerge champion pipping compatriot WGM Mary Ann Gomes to the second spot and WGM Vo Thi Kim Phung of Thailand to the third.
Divya, who was seeded 9th in the Blitz section, had a bad start to the competition as she lost her first game to Woman International Master Aakanksha Hagawane in just 35 moves.
But the talented city lass immediately regrouped herself and embarked on a winning journey from there on.
In the second game, Divya quelled the challenge from WIM Parnali S Dharia with black pieces in a 33-move battle.
The win gave confidence to Divya and she made light work of city-mate Shrishti Pandey beating her in 24 moves.
Mongolian Woman Fide Master Munkhzul Davaakhuu posed challenge to Divya, but the latter stretched the fourth game to 50 moves to emerge winner. The fifth round game, too, was stretched to 50 moves but Divya, playing with white pieces, used all her experience to beat Rakshitta Ravi. In the sixth round, Divya consolidated her position as she beat Arpita Mukherjee with black.
Playing the next two rounds with white pieces gave Divya upper hand as she went on to collect two more points beating Mary Ann Gomes (38 moves) and Padmini Rout (47 moves).
Needing a draw in the final round, Divya played it safe and split point with WGM Vantika Agrawal in a 62 moves battle to clinch the Blitz title. In the Standard event, Divya, seeded seventh, recorded five wins and three draws to collect 6.5 points and finish a creditable third. WGM Nandhidhaa drew her ninth round match against Divya to finish at top with 7.5 points. The 26-year old Tamil Nadu player remained unbeaten through the nine rounds and won six games.
Priyanka Nutakki, Divya Deshmukh and Thi Kim Phung Vo (Vietnam) finished equal on 6.5 points but Nutakki took second place on the basis of a better tie-break. Deshmukh finished third and Vo was placed fourth.