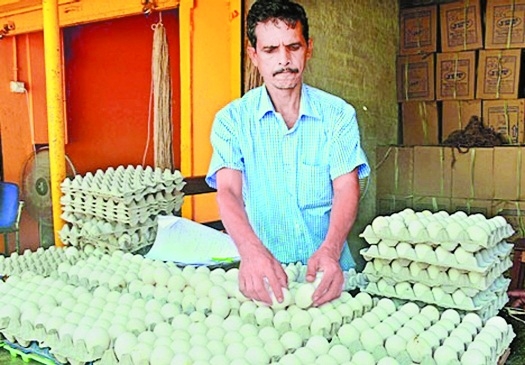 Business Bureau :
WITH the drop in temperature and end of the festive season the consumption of eggs has increased resulting in higher prices. The egg prices after dropping to a low of Rs 4.30 per piece in the past 15 days is now being quoted at Rs 5.25 per piece in the wholesale market, a rise of 0.95 paisa. In retail, eggs are sold for Rs 6 per piece and in some localities at Rs 6.50 to Rs 7 per piece. "As the mercury dips the consumption of eggs multiplies thereby driving the prices northwards in the wholesale market," said Moiz Burhani of Vidarbha Eggs, Mahatma Phule Wholesale Market while speaking to The Hitavada. On an average about 10 lakh to 12 lakh eggs per day are consumed in the city. Earlier in the month of May the consumption was about 8 lakh to 9 lakh per day. The demand for eggs is steadily rising due to the colder climate. It is expected that the consumption would reach a level of 14 lakh to 15 lakh eggs per day during the peak winter season, he said.
On a daily average 16 lakh eggs come to the wholesale market. About 10 lakh eggs are consumed within the city itself while the remaining eggs are sent to nearby locations like Bhandara, Wardha and Chandrapur, he pointed out. Burhani anticipates that prices of eggs may go higher from the current level in the month of December. Another factor for the surge in egg prices is the cost of bird feed consisting of maize and soyabean doubling during the past two years. The maize prices has surged to Rs 2,500 per quintal, as compared to Rs 800 per quintal two years ago. Similarly, the soyabean prices have jumped to Rs 5,000 per quintal, as against Rs 2,000 per quintal during the same period. Poultry farmers have to sell their eggs above Rs 4.20 per piece to make a profit. As eggs are perishable commodity it has to be consumed within 10 to 12 days, Burhani added.
Currently, the fear of COVID-19 has receded but the health conscious people are taking no chances and consuming eggs in an attempt to keep their immunity strong as eggs are rich in proteins and vitamins, he pointed out. "Although India has a huge population, still the per capita consumption is lower as compared to developed countries in the world. But, this is gradually changing and more people are turning to eggs to meet their nutritional requirements," he added. "Eggs are perishable commodity and have to be consumed within 10 to 12 days," he pointed out.