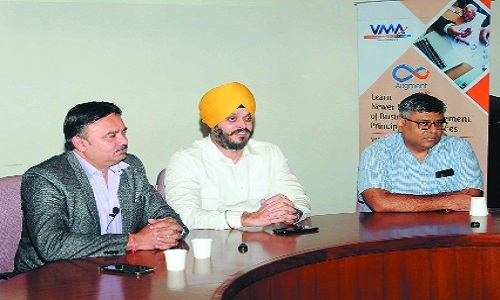 Business Bureau
Expressing their views at the session organised here recently by the Vidarbha Management Association (VMA) Chartered Accountant Mahendra Kamath; Director of JDS Group of Companies Sahaj Patel; and Director of Tuli Group of Companies Rupinder Singh Tuli said growth of any business can be easily boosted with the 'right system' in place. They were speaking at the session on 'Ideas That Impacted My Business Positively."
Kamath said that 'when you appoint executive, your responsibility as manager increases and when you appoint a manager your responsibility as director increases. This keeps on going. If you could set as system as per your position, then life can be enjoyed to the fullest," he added.
Prince alias Rupinder Singh Tuli said that sales and recovery are the most important things in business. He also spoke about the system he adopted for business growth. "Sales increased as sales representatives were given incentives. Efficiency increases as the employees in the billing section and packaging section are also given incentives. In addition to this, recovery is also very important for any business organisation," he added.
Sahaj Patel shared his thoughts on how a new product line addition has changed the perception about JDS Group of Companies. "Maintaining transparency with staff members and customers is very important. As well as there should be a continuous communication with the customers to keep the track of purchase history," he said.
Moderator of the session was Brij Sarda while the session incharge Sandip Tibdiwal shared 'Augment Tip' on the topic 'Systems to improve Employee Engagement'.