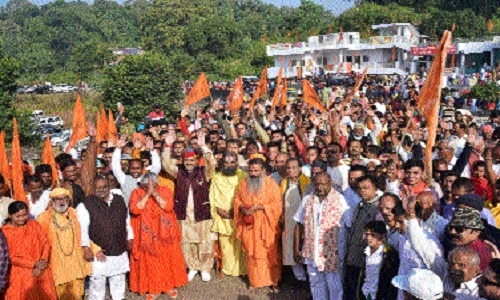 Staff Reporter
Devotees were soaked in religious fervour while holy chants of Goddess Narmada turned the environment spiritual when grand Narmada Panchkoshi Parikrama began from Hare Krishna Aashram Bhedaghat on Tuesday marking pious Karthik Poornima day. Devotees chanted names of river Narmada before commencing Panchkoshi Parikrama. Prior to start of Panchkoshi Parikrama, devotees were also given 'Gomati Chakra', which was worshipped in Badrinath Dham. After this distribution rituals for Narmada Panckoshi Parikrama also begun.
Starting from Hare Krishna Aashram, the Panchkoshi Parikrama visited Panchvati, Chausath Yogini, Dhuandhar, Kalyan Tapovan, Virat Hospital, Lamheta Ghat, Lord Shani temple through boating, Imaliya Gate and New Bhedaghat. After crossing Saraswati Ghat the Parikrama concluded at Hare Krishna Aashram.
During this 'Parikrama Yatra', members of Madhya Pradesh Class Three Government Employees Association gave monetary contribution to Sukh Dukh Parivar Lamheta Ghat.
Similarly, the LGBTQ community practiced rituals of 'Godbharai' at Aashram premise seeking blessings of motherhood. Further, various people built small houses with balancing stones on the pathway of Parikrama for fulfillment of their wishes.
Further, Narmada Mahaarti Founder Dr Sudhir Agrawal, BJP Vyapari Prakoshtha State Coordinator Sharad Agrawal, Yogendra Dubey, Dr Shiv Shankar Patel, Pandit Manmohan Dubey, Shyam Manohar Patel, Bhagwan Hanuman ji Maharaj, Swami Narsinghdas ji Maharaj, Swami Gyaneshwari, and others were present.