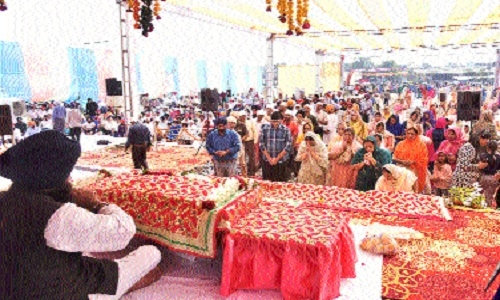 Staff Reporter
The 553rd Prakash Parv of Guru Nanak Dev was celebrated with religious fervour at Garrison ground on Tuesday.
Series of religious activities were organised by Sikh community members. Further, all religious programmes and practices being performed prior to Guru Nanak Jayanti concluded.
Series of religious activities started from 9 am onwards with performance of internationally renowned Ragi Jattha from Amritsar Punjab, Hazuri Ragi Jattha Harminder Saheb Amritsar Wale, Shri Darbar Saheb Amritsar Hazuri Ragi Jattha Jagdeep Singh Rajewal and Ragi Jattha Avatar Singh Hoshiyarpur. 'Ragi Jattha' sang glory of Guru Nanak Dev Ji through 'Shabad Gurubani'.
Further, thousands of disciples visited Shri Guru Granth Saheb and bowed to him with devotion. On the occasion, 'Guru Ka Langar' was distributed the entire day. Prayer for well being of everyone was also performed.
During Keertan Darbar, Gurudwara Mahakal Head Pratap Singh Virdi and General Secretary Gurudev Singh Reel felicitated public representatives, heads of all the Gurudwaras of the city and service providers with presenting letter of appreciation and shawl. Felicitated dignitaries included Member of Parliament Rakesh Singh, Mayor Jagat Bahadur Singh Annu, Army General Officer In Command MB Area, MK Das, Member of Parliament Sumitra Valmiki, MLA Ashok Rohani, MLA Tarun Bhanot, Corporator Lovely Anand, Sanjay Seth and others. The grand event concluded with Prakashotsav aarti at 12 midnight.
Mahendra Singh Naagi convened the programme while Gurudev Singh Reel proposed a vote of thanks. On the other hand, various programme and religious activities were also organised in the city during the entire day of Guru Nanak Jayanti.