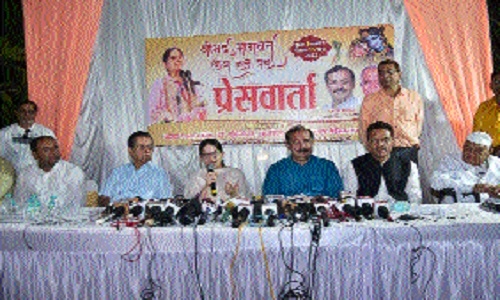 Staff Reporter
World known spiritual speaker, Jaya Kishoreji said, "Shrimad Bhagwat Katha is the medium of knowing the nature and personality of the Supreme Lord." Addressing a press conference on Tuesday, Jaya Kishori said she was happy to come to the city which is known as Sanskardhani and Dharmadhani.
The spiritual speaker said during the week-long religious and spiritual programme she will try to spread the essence of Shrimad Bhagwat Katha to every dwelling of the city. She appealed devotees to participate in the programme in large numbers.
Expressing views on the occasion, MLA Tarun Bhanot and Mayor, Jagat Bahadur Singh said a grand Shrimad Bhagwat Katha Gyanyagya is going to be organised in the city from November 9 to November 15 at Badda Dada Ground, Doctor Colony, near Medical College. They said known spiritual speaker, Jaya Kishore Ji will
recite Bhagwat Katha and apprise devotees about the real extract of this sacred script from 3 pm to 6 pm regularly. They said a grand Bhandara would be organized on November 16. Bhanot has appealed the citizens to participate in the Shrimad Bhagwat Katha Gyanyagya in large number. Those also present on the occasion were Chandra Kumar Bhanot, Pt. Pramod Tiwari, Ms Asha, Dr Ravi Kumar Maheshwari, Gaurav Bhanot, Pankaj Tiwari, Rohit Tiwari and others.