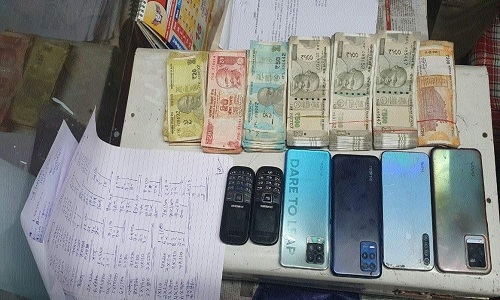 Staff Reporter
A Combined team of Crime Branch, Panagar and Madhotal police nabbed two wanted bookies of satta and seized cash of Rs. 1.61 lakh, 7 mobile handsets and record of Satta bookings amounting in lakhs in two separate raids in Madhotal and Panagar, on Tuesday. The arrested has been identified as Rahul Sahu (34), resident of Mother Teresa Nagar in Madhotal and Sanjay Singh Thakur (29), resident of Gurunanak Ward, Bamhnauda road.
SHO, Madhotal police station, Rina Pandey Sharma informed that during a special campaign against gambling activities, Crime Branch received information about a wanted Satta bookie Rahul Sahu who was taking online Satta bookings at his house situated in Mother Teresa Nagar. Acting promptly on the information, a combine team of Crime Branch and Madhotal police raided the residence of accused. In the raid, police trapped one of the bookie Rahul Sahu when he was taking online bookings of Satta while two other men managed to escape from the spot. Police have seized cash of Rs. 1.61 lakhs, four mobile handsets and records of Satta bookings. The arrested Rahul Sahu disclosed the names of two absconding men as Harsh Sahu and Pawan Vanshkar. Similarly, SHO, Panagar, Vijay Ambhore informed that acting on a tip-off, combine team of Crime Branch and Panagar police raided the residence of a man named Sanjay Singh Thakur and trapped him with record of Satta bookings, cash of Rs. 5,100 and a mobile handset. The accused disclosed that he was taking bookings of Satta under the direction of Rahul Sahu who was earlier lived in Panagar and currently lived in Mother Teresa Nagar.
Madhotal and Panagar police have registered separate cases under Section 4A of Satta Act and started a search for two absconding men.