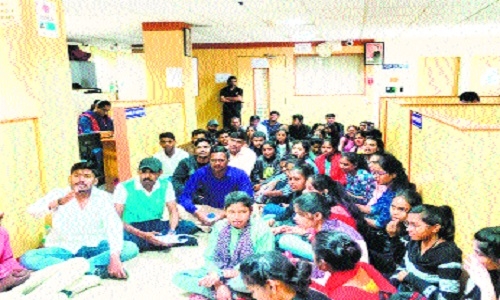 Staff Reporter
Hundreds of students had reached the Nursing Council to protest under the leadership of Ravi Parmar, co-ordinator of the NSUI (Madhya Pradesh) Medical Wing, who said that the police brutally chased them away and they also misbehaved with the girl students.
Parmar alleged that the students were protesting in support of their demands outside the Nursing Council office in the State capital and police personnel brutally beat them up. Not only this, student leaders Ravi, Bhavya Saxena and others were arrested.
In fact, after protesting outside the NRI College till late Tuesday night, the students had come to protest outside the Nursing Council on Wednesday morning. The students wanted to meet the Registrar of the Nursing Council to apprise him of their problems. The registrar refused to meet the students, but the police personnel came there and beat up the protesting students, he alleged. Police lathi-charged the nursing students and picked them up from the dharna site. Not only this, they misbehaved with the girls students. During this, a girl student fainted and fell down. NSUI Medical Wing organiser Ravi Parmar, who was leading the protest, was dragged away by the TT Nagar police. Student leaders Ravi Parmar, Bhavya Saxena and others remained in police custody till late evening. Hundreds of nursing students gathered outside the police station to get them released. The police had also seized his phone after detaining him.
In fact, two years ago the NRI College administration had enrolled hundreds of students in the nursing college, but after two years now the college administration told the students that the college is not recognised. In such a situation, the students will not get the degree. Now the future of hundreds of students is in darkness.
The medical wing of the student organisation NSUI was sitting on a dharna outside the college since Tuesday evening in support of these students. Ravi Parmar of NSUI Medical Wing was demanding action against the director of the college. But raising the voice of the nursing students proved too much for them when the police took them away. The protesting students said that they have also lodged a complaint with the Bhopal Dehat police station, but no action has been taken.
President of Youth Congress Media Cell Vivek Tripathi also reached TT Nagar Police Station late in the evening. He warned that the police should soon release the student leaders, otherwise NSUI and Youth Congress workers would gherao the police station. He appealed to the government that the future of nursing students is in darkness, so do justice with them.