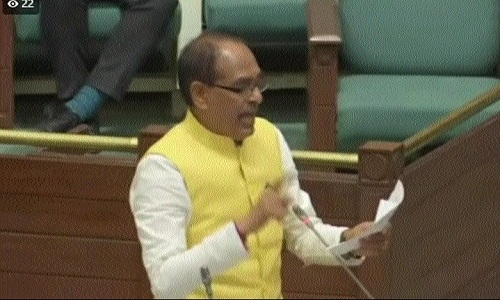 By Bhavana 'Aparajita'
Shukla
After heated debate and Chief Minister's fierce reply, the no-confidence motion moved by the Leader of Opposition Govind Singh in State Assembly has been defeated and the House was adjourned sine die on Thursday.
Taking an offensive stand in reply to the motion, Chief Minister Shivraj Singh Chouhan highlighted the success of his Government and initiatives taken regarding PESA Act, CM Rise School, medical education in Hindi, welfare schemes for women, farmers and girls, star-ups and State's business-friendly atmosphere. Besides, the CM also highlighted Government' action taken against Naxalites.
Refuting verbal attacks made by Congress party, referring to Kamal Nath-led government's misrule, he said in the House that "Secretariat became a center of corruption (Dalalon ka Adda), at that time and corruption was rampant."
Only the transfer industry was flourishing. He also took on the Congress over farmers' loan waiver issue and how MLAs of their own party were taken on back seat. "During Kamal Nath government, Congress MLAs were told Chalo-Chalo (move aside) while private contractors were welcomed (Baitho-Baitho)". This kind of ill treatment to the MLAs led to the switch from Congress to the BJP. Consequently, the Government was collapsed.
Jitu Patwari rebuked: There were heated arguments in this session over Higher Education Minister Mohan Yadav's remark over Goddess Sita, for which Congress demanded an apology from the minister. Jitu Patwari, former higher education minister, raised the question of misuse of public money by the BJP office. For raising such issues, former minister and Congress MLA Jitu Patwari was being rebuked by the Speaker saying 'Aapko training lene ki jarurat hai (You need to take training). Has any minister replied to your query."
Senior Congress leader Sajjain Singh Verma said that schools run by the Government are at the helm of visiting teachers. There is an acute shortage of teachers in Government schools. During COVID period, crores of rupees were paid to a private hospital by the State Government. Government should come up with more details about such a huge expenditure, he demanded.
After the CM's reply, voting on the no-confidence motion started and the Opposition's move got a setback.
Notably, Leader of Opposition Dr Govind Sing and Pradesh Congress President Kamal Nath were absent from the House on Thursday. According to the report, Dr Govind Singh had to rush to his native place Lahar in view of his mother's serious health condition. While Kamal Nath is on his visit to Vidisha and Sironj.
Talking to the media Kamal Nath said that he had promised to the people of these two cities so he had to keep his words. On Wednesday, the Opposition had moved a no-confidence motion against Chouhan-led Government in the Assembly, targeting it over issues such as corruption and atrocities against women and tribals. Debate, which started around 12.20 pm on Wednesday and saw several heated exchanges, lasted till 12.35 am on Thursday. Speaker Girish Gautam then adjourned the House till 11 am on Thursday. When Higher Education Minister Mohan Yadav was speaking against no-confidence motion after midnight, Congress demanded an apology from him for alleged remarks made on Wednesday against Goddess Sita. When he refused to apologise, the Congress members staged a walkout. Congress members led by former ministers Sajjan Singh Verma, Vijay Laxmi Sadho, Jaivardhan Singh, Jitu Patwari and P C Sharma among others staged a protest before the Mahatma Gandhi statue in the Assembly premises raising slogans like 'Sita Maiya Ka Apmaan Nahi Sahega Hindustan' (India will not tolerate disrespect to Goddess Sita) and demanded that Yadav apologise for his comments.
After question hour on Wednesday, Leader of Opposition Govind Singh moved no-confidence motion, which was admitted by the Speaker. Opposition members targeted the BJP Government over law and order, unemployment, inflation, corruption, discrimination against the opposition legislators, atrocities against women and tribals, farmers' problems and other issues.