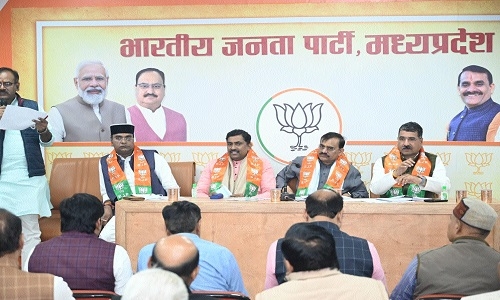 By Bhavana 'Aparajita'
Shukla
Aiming to turn vulnerable Assembly seats in to invincible, The BJP has chalked out special strategy to consolidate party's position on such seats.
On Saturday, the party held a meeting of incharges of Assembly seats, known as Akankshi seats (weak, where either party lost the elections or won by razor thin margin or due to defector factor).
Talking to 'The Hitavada', BJP State President V D Sharma said "a meeting for Akankshi Vidhan Sabha seats was held. Incharge of these seats have been assigned with a special task on a special subject. A review was done. At the same, it is being asked to ensure preparation to achieve the goal of increasing vote share at each booth." He further added "we have pledged to have 51 per cent vote share at each booth. Likewise, incharges of Akankshi Vidhan Sabha seats are also supposed to chase the same target of 51 per cent vote share at each seat. They have to work on this strategy."
Rounds of meetings will be held at a certain duration so that progress could be evaluated. There are around 100 seats across the State where party need to pay more attention. Notably, Congress secured 114 seats in 230 Assembly and formed the Government with the help of BSP, SP and some independents in 2018. After Scindia and his supporters moved to the BJP, Shivraj Singh Chouhan-led BJP government could came to the power in the State. Now, BJP looks to be on shaky ground in Morena, Gwalior, Damoh, Jabalpur, Mandla, Hoshangabad, Bhopal, Rajgarh, Dewas, Ujjain, Dhar, Khargone, Khandwa and Betul seats. In by-poll elections and local body elections have given a wake up call to the party. In by-poll elections of one Parliamentary and three Assembly seats. BJP has managed to retain Khandwa parliamentary seat and also won two seats of the Congress but with a shrinking margin. While Congress has managed to make its mark in Raigaon after three decades. One of the party's citadels won by the Congress. But the BJP's victory was marked by remarkable reduction in vote share. The victory has not been a comfortable one. After 31 years, Congress has wrest Raigaon seat from the saffron party with a comfortable margin in by-poll. Congress candidate Kalpana Verma won by a margin of 12,096 votes against BJP's Pratima Bagri. After the demise of former president of the state BJP and MP Nandkumar Chouhan, Khandwa Parliamentary seat fell vacant. The saffron party managed to retain the seat but the margin shrunk to 81,500 votes. Except for the 2008 elections, Chouhan had won the Khandwa seat consistently since 1996. The BJP had held Khandwa and Raigaon while Congress had Jobat and Prithvipur. In the last Assembly elections, the party faces its toughest challenge in Gwalior, Rajgarh, Mandla, Ujjain, Dhar and Khargone, where Congress has wrested five to seven Assembly seats. Political experts say that the party is riding on the power of key defectors from opposition parties and suffering a remarkable reduction in its winning margin at these seats. Which is a cause of concern for the party.