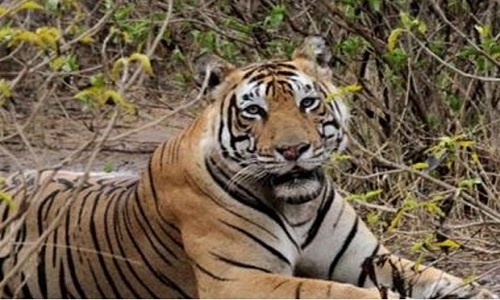 Staff Reporter
Security around Kerwa and Kaliyasot region has been beefed up after a new tiger entered the area.
Two cubs of tigress T-123 have also formed separate territories around Bhopal jungles. First cub T-123-1 is active at 13 Shutter gate area and is continuously extending his territory. The Forest Department is continuously monitoring two cubs through e-surveillance. Earlier, T-123-1 went towards jungle area but after three months, he came back to Kerwa location. The cub has also killed a prey after which patrolling team raised an alarm in the area. Forest officials said a few more cameras are to be placed in the area but due to rains it could not be done.
They said the cub is making territory in the area of his mother tigress and he has also left sister tigress T-123-2 away from the territory. Tigress T-123-2 is active around Bhanpur jungles. Mother tigress visits both cubs in their areas frequently. Tigress (T-123) has formed a separate territory towards Budhni forest area.
Forest officials said that the area is good for young cubs as they have sufficient killing around Bhopal jungle. Concerned over presence of tiger T-123-1 in Kerwa jungles, the Forest Department has started making public announcement among villagers to stay alert.
The tiger is cub of T-123 and it is increasing territory area till Kaliyasot region. Samardha Forest Ranger A K Jhawar said, "This area is filled with big cats and it is not confirm when the tiger will change its location. People should not enter the area and we are making public announcements to stay alert."
He further informed that tigress T123 gave birth to two cubs in 2016. The two cubs were tagged as T-123-1 and T-123-2. Both cubs have now left mother tigress and started making territory in separate locations. The Forest Department has increased patrolling of guards in the area and asked people to stay away from jungle. The department said cub of T-123 is now growing up and it has stared setting up territory. Apart from this, movement of a tiger and a leopard is being recorded continuously from Kaliyasot jungle. The two felines are continuously killing prey.