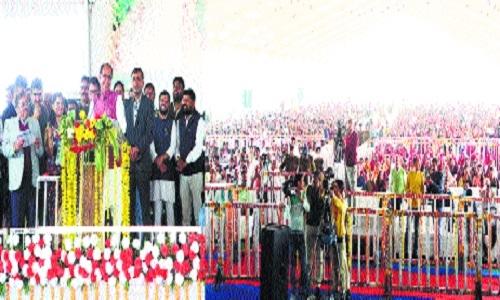 Staff Reporter
Chief Minister Shivraj Singh Chouhan has said that his Government is working from village chaupal and not from Bhopal to bring changes in the lives of common people. The Ratanpur Lift Irrigation Scheme, which is dedicated to the public today in Semri village of Sehore district, will bring happiness and prosperity in the entire region. With the launch of the scheme, 1084 hectare land of 600 farmers of villages Bori, Ratanpur, Semri, Dongri and Khanpura will be irrigated.
Chief Minister Chouhan was addressing villagers and farmers on Sunday after dedicating the irrigation project built at a cost of about Rs 15 crore and laying the foundation stone of development works worth Rs 3.61 crore in Semri. The Chief Minister also announced sanction of Rs 20 crores for the irrigation facility of the remaining 7 villages from the project. Member of Parliament Ramakant Bhargava was also present. Chief Minister Chouhan said that this lift irrigation scheme in the state is unique in the sense that water has been brought up from a 40 feet low canal. Along with this, 9 kilometre long pipeline has been laid in the fields to supply water to the fields of 600 farmers. Fields will be irrigated by installing MOX box on every 6 hectares. Chief Minister Chouhan called upon the farmers to safeguard the project.
Chouhan said that many public welfare schemes are being implemented to bring change in the lives of the poor. He called upon the youth to clean the villages and develop them as ideal villages. Chief Minister Chouhan said that medical and engineering education will now be imparted in the state in Hindi. Poor and middle class families should educate their children well, their fees will be paid by the state government. Chief Minister Chouhan said that everyone should ensure that women are respected. Strict action will be taken against those who cast an evil eye on women. Reiterating his resolve to increase the income of the women of Livelihood Mission to Rs 10,000 per month, the Chief Minister said that the collector should ensure that all the groups get bank linkage and start working after training etc. Chouhan said that recruitments will be made on one lakh Government posts for the youth. Coaching centres are being started in Nasrullaganj and Shahganj for the preparation of competitive examinations, so that the children of Budhni area can also get selected in government jobs. Chief Minister Chouhan said that Devi Mahalok of Vijayasan Mata is being developed in Salkanpur. He said that all the 52 Shaktipeeths, 64 Yognis, Nava Durga and Sapta Matrika forms of Mata can be seen together in this Mahalok. At the outset, Chief Minister Chouhan dedicated the Ratanpur Lift Irrigation Project by pressing the button.
Later, after a virtual discussion with farmer Gajendra, he inquired about the water reaching the field. All the invitees including the Chief Minister also saw a live view of water reaching the fields for irrigation through the scheme.