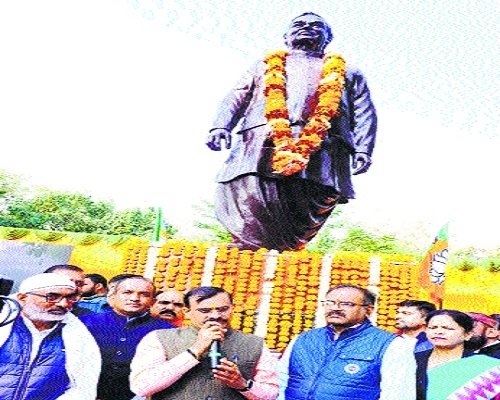 Staff Reporter
Birth anniversary of former Prime Minister Bharat Ratna Late Atal Behari Vajpayee was celebrated under the aegis of Bharatiya Janata Party at 64,000 booths across the State on Sunday. Party leaders and workers remembering Vajpayee, paid homage to him. BJP President Vishnudutt Sharma and Chief Minister Shivraj Singh Chouhan paid floral tributes at the statue of Atal Behari Vajpayee in the State capital. After the programme, Sharma listened to Prime Minister Narendra Modi's 'Mann Ki Baat' radio programme at the statue of Atalji along with the workers. On Atalji's birth anniversary, lectures and seminars on Atalji's life were organised at all district headquarters. Party leaders and workers distributed woollen clothes, grains and fruits in Seva Bastis (settlements). Atalji did politics of purity and value-based good governance: Vishnudutt Sharma paying homage to Atalji said that the work and personality of Atalji is inspirational for all of us. Atalji did many innovative works for the reconstruction of the nation and uplift of every class. For building a strong nation and good governance in the country, Atalji always did clean and value based politics. Today, party workers are making Atalji's dream come true on the ground under the leadership of Prime Minister Narendra Modi.
Modiji is making the nation proud by following the path of Atalji: Chief Minister Chief Minister Shivraj Singh Chouhan paying floral tributes to the statue of Atalji said that Late Atalji was our 'Path Pradarshak'.
He was an amazing leader, an original thinker, a nationalist thinker and a great speaker. Our Prime Minister Narendra Modi is making the nation proud by stepping on the same path that Atalji had started as the Prime Minister to make the country glorious, powerful and prosperous. He said that all the workers should follow the path shown by Atalji for the welfare of the country and society, to serve Mother India. The chief paid tributes in the state office.
On the occasion of Atalji's birth anniversary in the BJP state office, the party's state president and MP Vishnudutt Sharma along with party officials and workers paid floral tributes to Atalji's picture by paying tribute to him. Party's State General Secretary Bhagwandas Sabnani, State Secretary Rahul Kothari, State Office Secretary Dr Raghavendra Sharma, State Spokesperson Dr Durgesh Keswani, Neha Bagga along with party office bearers and workers offered floral tributes.