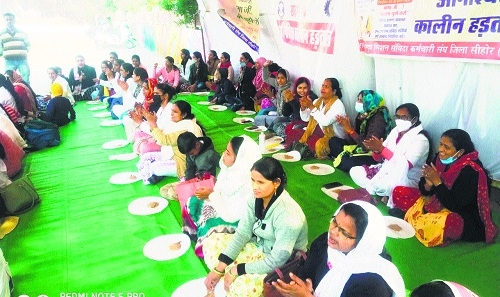 Sehore Correspondent
The Contract Health Employees Union is on an indefinite strike from December 15. Contractual health workers are on strike demanding regularisation of service. On Tuesday, on the 13th day of the strike, contract health workers protested by eating straw.
The contract health employees also handed a memorandum to the State Health Minister Dr Prabhuram Chaudhary in the district hospital premises and informed him about their demands. On Tuesday, Health Minister Dr Chaudhary had come to the district hospital to inspect the hospital and COVID-19 related preparation.
DEIC building found deserted during Health Minister's inspection: The effect of contractual workers was seen at District Early Intervention Centre (DEIC) too. The building was lying deserted when Health Minister Choudhary visited it. To draw the government's attention, contractual workers ate chaff on Tuesday. Whereas some days back they broomed the roads and had written a letter with blood to express their plight.
Congress extends its support to the contract health workers: District Congress General Secretary Pankaj Sharma has issued a statement strongly attacking the BJP government of Madhya Pradesh, he has issued a press release saying that on one hand the Chief Minister of Madhya Pradesh Shivraj Singh Chouhan calls himself the son of a farmer and the maternal uncle of all. Wherein, he does not see the pain and suffering of lakhs of contract workers of the state, their nephews and nieces, how they would be able to earn bread and butter in today's era of inflation, uncertainty of job and such low salary. He further said that in democracy everyone has the right to speak and protest peacefully. Even in Sehore, Congress workers went to support their movement and saw how they were protesting in a Gandhian way but the way these corona warriors are treated by the state government is highly
condemnable.