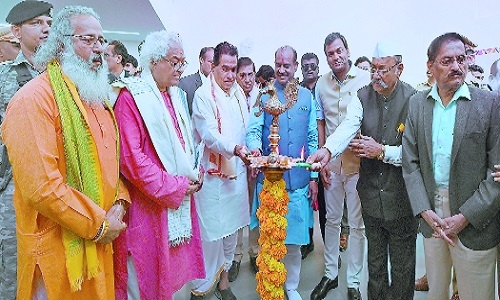 Business Bureau
"Intelligence, innovation, research, self-confidence, passion, hard work of the youth will make India a world champion. The youth of the country are contributing economically and socially. A great revolution has taken place everywhere due to the power of the youth. It includes technological, spiritual, social or scientific revolutions," said Lok Sabha Speaker Om Birla.
He was speaking as the chief guest at the inauguration of the WPU School of Design building named after Vishwakarma at Kothrud by MIT World Peace University. MAEER's MIT WPU Founder President Prof Dr Vishwanath D Karad was present. MP Srinivas Patil and Head of Asian Heritage Foundation, noted designer Padma Bhushan Rajeev Sethi were the guests of honour.
Also, Rahul Vishwanath Karad, Executive President of MIT World Peace University, MAEER's Founding Trustee Prof Prakash Joshi, Chairman of MAEER's Managing Committee Prof Dr Mangesh T Karad, Executive Director of MIT Prof Swati Karad Chate, Vice Chancellor of WPU Dr R M Chitnis, Pro Vice-Chancellor Dr Milind Pandey, Dr Tapan Panda and Dr Guruprasad Rao were present.
Om Birla said, "Today there is more emphasis on leadership, democracy and governance. Leadership is not limited to politics but should be in every field. If leadership is strong in governance, accountability and transparency will be strong everywhere." Dr R M Chitnis gave the welcome speech. Prof Dr Gautam Bapat moderated the session. Dr Guru Prasad Rao proposed the vote of thanks.