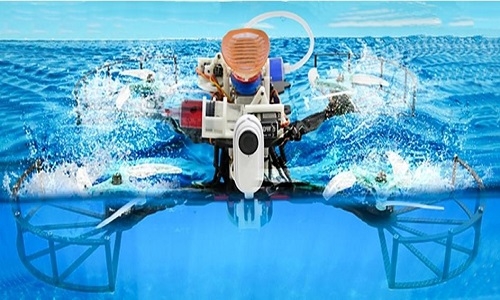 By Ankita Garg
The incubation centre set up by Barkatullah University (BU) is proving wide range of attractive opportunities to the young entrepreneurs. The incubation centre is giving exposure for student's inventions and creativity.
The university has granted a scholar to develop an underwater drone that would be making live recording of reptiles, insects and other underwater structure in the water.
In order to motivate M.Tech student Yogesh Singh, the university has granted compensation amount of Rs 1 lakh. While Yogesh is working on underwater drone, another student of the department is working on liquid fertiliser that would help to grow plants rapidly. The university is promoting start-ups and strong ecosystem through its incubation centre. Recently, university had invited suggestions and ideas from researchers. There are 25 students who have submitted their ideas to the university.
University officials said liquid fertiliser will help plants to grow. They said for past few years, people are moving towards organic farming. An academic industrial meet was also conducted by BU in which 50 industrialist were present.
S K Jain, Vice Chancellor of Barkatullah University, said, "we are taking all ideas seriously for the innovation, incubation, research and start up plans. We are also providing maximum help to the students. University aims to provide better employment opportunity and academic development among students.
He further informed that there is laboratory facility and compensation amount to the scholars for motivation purpose. He said most of scholars have presented their project on robotic system, organic farming and bamboo business. "Total 25 students have submitted their ideas," added Vice Chancellor S K Jain.