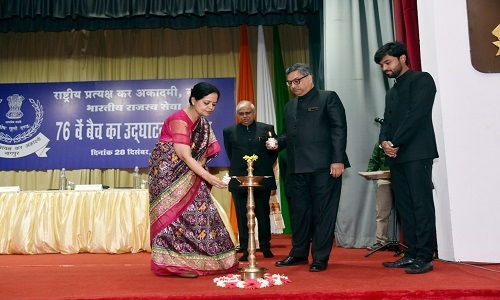 Business Bureau
The inauguration ceremony of the Induction Training for 76th batch of 59 IRS officers and 2 officers of the Royal Bhutan Service was conducted on December 28, 2022 at the National Academy of Direct Taxes (NADT), Nagpur.
Anuja Sarangi, Member, Central Board of Direct Taxes was the chief guest on the occasion. Senior officers heading various Central and State Government organisations and senior officers from the Income Tax Department, Nagpur were present on the occasion.
The National Academy of Direct Taxes, Nagpur is the apex training institute for the Indian Revenue Service (IRS) Officers (Income Tax) of the Government of India. The IRS Officers are recruited through the Civil Services Examination (CSE) conducted by the Union Public Service Commission (UPSC). The direct recruit IRS Officers undergo induction training of about 16 months before being posted to the field offices.
During their training, the Officer Trainees are trained on various aspects of tax administration and are provided specialised inputs in Income Tax Laws, jurisprudence as well as allied laws, general laws and business laws.
Team NADT led by Sanjay Puri, Pr DG (Trg), NADT, expressed their heartfelt gratitude to the dignitaries for taking their time out of their busy schedule and for their valuable guidance to the young Officer Trainees of 76th batch of IRS.