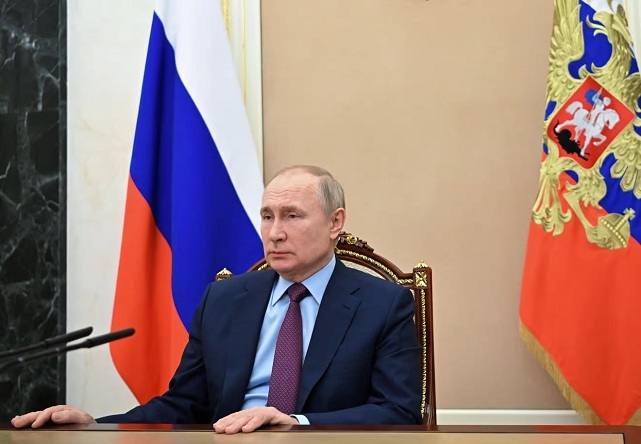 MOSCOW :
Dialogue with West to go on, says Putin
RUSSIAN President Vladimir Putin said on Tuesday that he welcomed a security dialogue with the West as his military reported pulling back some of its troops near Ukraine — signals that may indicate the Kremlin has opted for a diplomatic path for now despite Western fears of an imminent Russian invasion of its neighbour. Putin said, he doesn't want war and would rely on negotiations as he presses his demand for the West to halt Ukraine's bid to join NATO. At the same time, he didn't commit to a full pullback of troops, saying, Russia's next moves in the stand-off will depend on how the situation evolves. On Wednesday, Russia said it was returning more troops and weapons to bases, yet another gesture apparently aimed at easing fears it is planning to invade Ukraine.
The Russian Defence Ministry released a video showing a trainload of armoured vehicles moving across a bridge away from Crimea, the Black Sea peninsula that Russia annexed from Ukraine in 2014. It said the movement was part of a return of forces to their permanent bases. Still Washington and its European allies remained cautious, saying, they want to see evidence of a Russian pullback. NATO declared that it saw no sign of a drawdown as fears that Moscow could invade Ukraine soon persisted. The US and NATO have warned that over 1,30,000 Russian forces massed near Ukraine could invade at any time, and they sent troops and military supplies to shore up NATO members in Eastern Europe. Russia has denied having such plans, demanding that the West keep Ukraine and other ex-Soviet nations out of the alliance, halt weapons deployments near Russian borders, and roll back forces from Eastern Europe.
The US and its allies have roundly rejected the demands, but offered Russia to engage in talks on ways to bolster security in Europe. Speaking after meeting with German Chancellor Olaf Scholz, Putin said, the West agreed to discuss a ban on missile deployment to Europe, restrictions on military drills and other confidence-building measures — issues that Moscow had put on the table years ago. He said, Russia is open to discuss "some of those elements," but added that it would only do that "in complex with the main issues that are of primary importance for us." Asked if there could be a war in Europe, Putin said, Russia doesn't want it but said Ukraine's bid to join NATO posed a major security threat to his country.