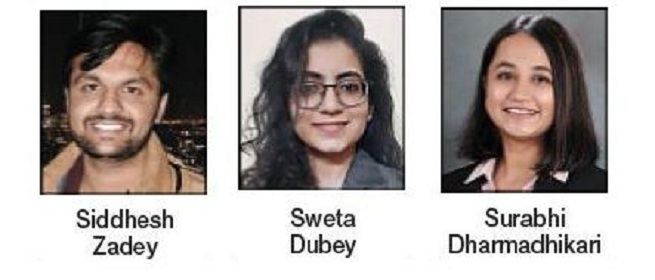 Principal Correspondent :
Three youngsters creating database for research, healthcare affordability
As there is no proper data available regarding number of people deprived of proper healthcare in India, the unreached still remains far from proper health services. This is one of the findings of the study conducted by three youngsters -- two from Nagpur and one from Pune who are working on multiple aspects of health sector. Through the database they are creating, they feel, Government can identify the areas where healthcare still has not reached. These youngsters are working through Association for Socially Applicable Research (ASAR), a non-profit Non-Government Organisation (NGO) on creation of database related to health sector. Siddhesh Zadey, Surabhi Dharmadhikari, and Sweta Dubey formed the organisation in 2018. They have published research and advocacy work in impactful and prestigious outlets like The Lancet, The British Medical Journal Global Health, Human Resources for Health, British Medical Journal (BMJ), John Hopkins School of Public Health's Global Health Now, Duke Students' Global Health Review, Bioethics.net and others. Siddhesh Zadey informed 'The Hitavada', "Some of our works are highlighted by the Lancet Commission for Reimagining India's Health Systems, which is a high level independent body that is going to provide recommendations to Government through its report that will be released on this year's Independence day." Zadey added that one of the biggest challenges in this project was assimilating data.
We combed through several reports, data repositories, surveys and other sources. "Over two-third of population lives in rural regions. Historically, rural healthcare provision was neglected under colonial rule. Rural health is high priority for Government of India in the last two decades under National Rural Health Mission (NRHM)," pointed out Siddhesh Zadey. Using data from multiple sources, ASAR conducted analysis for 2017-2018 for 666 districts in India, it was found that over 99% rural people were within 2 hours of their nearest surgical care facilities. However, this model assumes that people have motorised vehicles readily available to them and hence, should be considered an upper bound. Regions in North and North-East India have severe access problems. Nationally, India has met little less than half of its projected need of surgeries.
There are several districts, spread throughout India where rural surgical need is not adequately met. A booming 61% of rural households faced problems when they took surgical hospitalization as treatment. This means that these people spent more than 10% of the overall household expenditure, out-of-pocket for getting surgery done, the ASAR study says. Apart from other things, ASAR is creating database for research issues like which part related to health sector need research that would help mankind. Government comes up with establishing health centres at various places. On most occasions, these centres are not proposed in a planned manner because of which they don't come at the places where they are needed. Government can study the data created by ASAR to identify such places. We believe that citizen-researchers from different backgrounds with shared goals can best solve India's social problems, added Zadey.
The team has a dynamic, flexible, volunteer-based functioning setup with over 50 members and interns, and several collaborating investigators across 3 different continents. The main research happens within the project-based working groups. The ASAR DaLoP (Data-led Local Policymaking) Forum works on building connections with the local political and administrative stakeholders for identifying needs. "We are in the process of creating a network of college-based ASAR Research Clubs (ARC) and ASAR Advocacy Groups (AAG) where students will work on research and advocacy of locally relevant Sustainable Development Goals (SDGs)," explained Zadey. Zadey pointed out, "We are publishing our data through multiple journal papers, conferences, and at talks with policymakers. But the implementation is slow." In 2021, ASAR was made an official knowledge partner of the Lancet Citizens' Commission on Reimagining India's Health System.
About three youngsters Sweta Dubey, is an aspiring paediatrician and health policy analyst who originally hails from Nagpur. She completed her MBBS in 2019 from SVN Government Medical College Hospital, Yavatmal. Sweta currently leads the Team for Sustainable Development Goal 3 at Green Governance Initiative (a central organisation that focuses on constituency development). At ASAR, Sweta focuses on policy analysis research techniques, health systems financing, mental health, child and adolescent health. Surabhi Dharmadhikari is an aspiring neurologist and a population health gender equality advocate and researcher from Pune. Her first study on smartphone addiction among students during her MBBS, has led to broader collaboration with investigators from ASAR and the National Institute of Ayurveda. Surabhi leads the advocacy and activism wings with a strong focus on generating evidence-informed social media stories on critical societal issues. Siddhesh Zadey who has done Bachelor of Science Master of Science (BSMS), Master of Science in Global Health (MScGH) is a Senior Research Aide in the Department of Surgery at Duke University School of Medicine (DU-SOM). He completed his second Master's from the Duke Global Health Institute in 2021, working with Dr Joao Vissoci on mapping surgical care access in rural India. At ASAR, he focuses on systems modeling to investigate socioeconomic disparities, healthcare access, and population-level mental health problems.