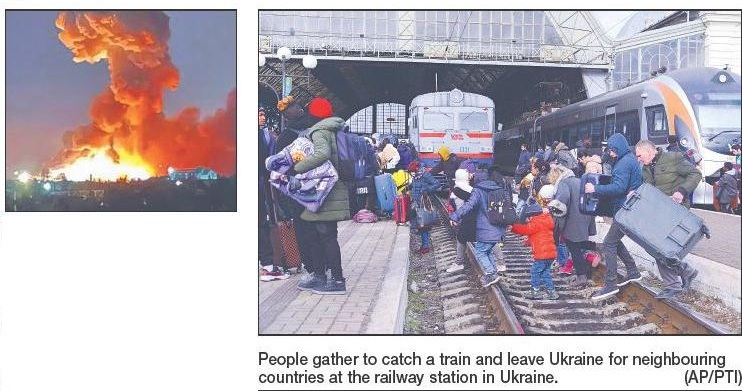 NEW DELHI :
The Russian Armed Forces have destroyed 975 Ukrainian military infrastructure objects A total of 471 Ukrainian servicemen have been detained Russians enter Ukraine's 2nd-largest city Kharkiv, advance on ports
THERE have been reports that an oil depot had been blown up at Vasylkiv Air Base. The city which sits around 40 kilometers south west of Kyiv, close to a key airport, 'Daily Mail' reported. A gas pipeline was also blown up in Kharkiv. Video footage showed a mushroom cloud filling the city's sky as the fuel line was destroyed, with a group of people, who filmed the clip, heard exclaiming with shock as the ball of flames erupted into the sky. It is unclear if anyone was injured or killed by either blast, 'Daily Mail' reported.
Ukrainian media shared footage of flames and black clouds billowing into the sky at the site of the Vasylkiv attack as the fuel burned. It has also since shared a clip of the moment the oil depot was struck, with a bright white glow filling the darkened night sky as the fuel store ignited, 'Daily Mail' reported. Two Ukrainian cities were rocked by Russian blasts in the early hours of Sunday as Vladimir Putin stepped up his invasion -- after it was claimed he has been infuriated by his Army's lack of progress. And the UN released the first official death toll Sunday, saying that at least 240 civilians have so-far been killed in the conflict.
The Russian Armed Forces have destroyed 975 Ukrainian military infrastructure objects, Russian Defence Ministry spokesman Igor Konashenkov said on Sunday. A total of 471 Ukrainian servicemen have been detained and will be sent to their families after paperwork. The Russian forces were instructed to resume their advance into Ukraine "in all directions" after Kyiv refused to hold negotiations. "We will fight for as long as needed to liberate our country," Zelenskyy vowed. Terrified men, women and children sought safety inside and underground, and the Government maintained a 39-hour curfew to keep people off the streets. President Vladimir Putin hasn't disclosed his ultimate plans, but Western officials believe he is determined to overthrow Ukraine's Government and replace it with a regime of his own, redrawing the map of Europe and reviving Moscow's Cold War-era influence. Street fighting broke out in Ukraine's second-largest city and Russian troops squeezed strategic ports in the country's south on Sunday, advances that appeared to mark a new phase of Russia's invasion following a wave of attacks on airfields and fuel facilities elsewhere in the country. Videos posted on Ukrainian media and social networks showed Russian vehicles moving across Kharkiv and Russian troops roaming the city in small groups.
One showed Ukrainian troops firing at the Russians and damaged Russian light utility vehicles abandoned nearby. Ukraine's Government also is releasing prisoners with military experience who want to fight for the country "We are fighting, fighting for our country, fighting for our freedom because we have the right to do that," Ukrainian President Volodymyr Zelenskyy said. A Russian Defence Ministry spokesman, Maj. Gen. Igor Konashenkov, said Russian forces had blocked the cities of Kherson on the Black Sea and the port of Berdyansk on the Azov Sea. Cutting Ukraine's access to its sea ports would deal a major blow to the country's economy. It also could allow Moscow to build a land corridor to Crimea, which Moscow annexed in 2014 and until now was connected to Russia by a 19-kilometer (12-mile) bridge, the longest bridge in Europe which opened in 2018.