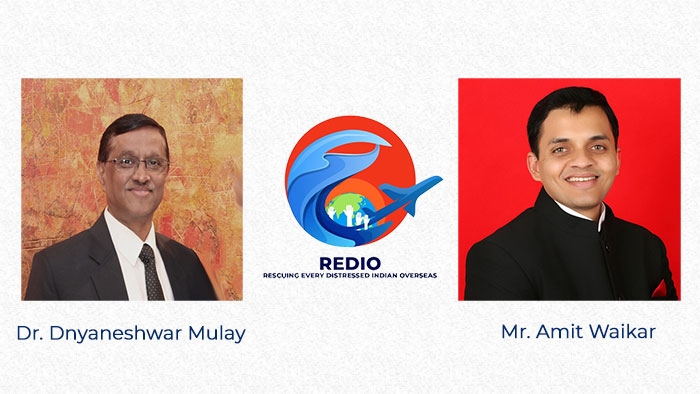 - By Kartik Lokhande
No Indian in distress abroad should be without help. With this goal, two Maharashtrians, including a Nagpurian, have joined hands with other like-minded persons and have come up with an initiative called Rescuing Every Distressed Indian Overseas (REDIO). Though the initiative has been in implementation for two years, the formal global launch is scheduled on February 20.
Dr Dnyaneshwar Mulay, former High Commissioner of India to Male and former Secretary of Ministry of External Affairs, is the Founder of REDIO. Dr Mulay, who is popularly referred to as 'Passport Man of India' as 410 new passport offices were opened under his leadership in the country, is also known for creating a strong framework to help Indians stranded overseas. Amit Waikar, a Nagpurian and recipient of coveted Pravasi Bhartiya Samman, is the REDIO Advisor for Thailand. V Muraleedharan, Minister of State for External Affairs, will launch the REDIO globally on February 20. 'The Hitavada' spoke to Dr Mulay and Waikar to know more about the unique initiative.
According to Dr Dnyaneshwar Mulay, who is presently Member of National Human Rights Commission, "We have 31 million Indians overseas. At any given point in time, a number of them face difficulties relating to issues about immigration, medical problems, accidents, marital distress due to violence/cheating. At any given point in time, 2.5 lakh people are on the sea. Then, there are 8.59 million Indian labourers facing issues relating to employment, cheating by recruitment agents, joblessness etc. So, our effort is to reach out to these Indians in distress abroad."
Prime Minister Narendra Modi has paid a big attention to these issues, said Dr Mulay. There is Indian Community Welfare Fund of Government of India. But, he explained, there is so much the Government has to do. Others also need to come to the rescue of Indians in distress overseas. REDIO is an effort to provide relief to them through pooling in of resources. At present, REDIO has 20 advisors in 20 different countries, and a network in India.
"We need to interact with Indian embassies. We must have an umbrella organisation to help out the Indians overseas. Our minimum promise is to reunite them with their families in India, and to see that they are happy in respective countries," added Dr Mulay.
REDIO has been in operation and helping out people for past two years. Amit Waikar cited an example highlighting how important it is to have a mechanism in place to act as bridge between the Indian embassies and the Indians in distress abroad. A Maharashtrian lady had heart attack in China. The young tour operator had no clue what to do. "She contacted me. Within half-an-hour, four Indians living in China reached the spot, established contact with the Indian embassy. The embassy was struggling to get in touch with her family. Finally, when her son was contacted, he said that it would be too expensive for him to get her body back to India. So, we performed last rites of the lady in China. There may be many ways in which the Indians in distress abroad or worried family members in India need help," he said.
Dr Mulay said that REDIO would work with the Government agencies. "We are not discovering the wheel here, but are trying to strengthen the wheel," he told 'The Hitavada'. At present, REDIO has network in several countries including Thailand, Kenya, Canada etc. Regular meetings of the advisors are held. The advisors of REDIO are chosen after minute scrutiny. They are well-established in respective countries in terms of social standing with embassies/consulates, have ability to rally behind distressed persons. Four of the Advisors are recipients of the coveted Pravasi Bhartiya Samman. "Our scrutiny for selection of Advisors is whether the person is committed to humanity," Dr Mulay added.
Dr Mulay shared another example. Four days ago, there was a call about three distressed Indians in the UAE who were cheated by recruiters. Three of the REDIO Advisors started working immediately. One Advisor was made in-charge of the effort, arranged taxi, arranged for RTPCR test, visited the Consulate with these three persons, made stay arrangements for them, and ensured their return to India in a short period of two/three days. Similarly, REDIO in its existing strength brought back seafarers from Iran and people from several other countries. These efforts boost the confidence of distressed people as there is access to agencies concerned, and consultancy charges are zero. Often, the Advisors have to pay from their own pocket for the expenses involved in making necessary arrangements. "The happiness we derive is priceless," said Waikar.
Regarding the motivation behind contributing to the society with this novel initiative, Dr Mulay recalled that he was fortunate to have been brought up in a very enriching environment in his native village Lat in Kolhapur district of Maharashtra. "We used to go swimming, climbed trees, helped parents in fields, had good sanskaar, education and carried that flame throughout the world. India's great values give me tremendous feeling. We carry those in our blood. We have derived a lot from the society. Now is the time to pay back. Movement of Positivity is my mission for life," he observed.
Amit Waikar, who hails from Nagpur, said that he followed the 'Four I' principle -- I for India, I for Inspire, I for Invest in India, and I for Interact. "Earn money but if you wish to become immortal, you must do something for others and create something bigger than you. Through REDIO, we are trying to do that," said the energetic man. Indians live in more than 100 countries. REDIO team's plan is to have Advisors in all these countries, he concluded.