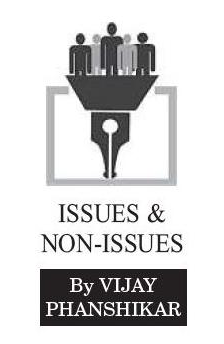 "Comrades! My soldiers! Let your battle-cry be --To Delhi To Delhi.
"How many of us will individually survive this war for freedom, I do not know. But I do know this that we shall ultimately win and our task will not end until our surviving heroes hold the victory-parade on another graveyard of the British Empire - the Lal Kila or Red Fort of ancient Delhi," he said.
"With the force of arms and at the cost of your blood you will have to win liberty," he said.
- Excerpts of the historic speech of Netaji Subhas Chandra Bose, the Prime Minister, Government of Free India, in exile, on October 21, 1943 .
EVEN though this speech has been well-documented and read and re-read all over the country for countless millions of times since it first stirred the hearts of all Indians across the world, its mesmeric value still is intact. Nay, it has actually grown in appeal and impact over time. And that is so because Netaji means so much to all of us. Not only is he our hero, but also our eternal guidepost of a nation that has now begun a fresh tryst with its Destiny as an entity that will in a very few years become a world super power. In that rendezvous with future, Netaji Subhas Chandra Bose will act as a Leader-Eternal.
That is the meaning of the metaphor of Netaji!
Let us to decipher what 'Leader-Eternal' means.
For, Netaji was no ordinary political leader. But as we interpret what he means to us, let us do away with hackneyed terms and phrases such as 'visionary' or 'dynamic' etc. For, our search of the meaning the Netaji metaphor starts far beyond all those superficial terms. Not only has Netaji added one of the most glorious chapters to our nation's struggle for Independence, but also has given us a tale of eternal pride -- thanks to his ability to mock at the mighty British and establish a Free State of India stamping on their chest.
As he stood there before his people to deliver that wonderful piece of patriotism and superfine literary merit, Netaji did not speak for just a few thousand soldiers of the Indian National Army (INA) -- Azad Hind Fauz or Sena -- but also for lakhs and lakhs of people of India origin spread across whole of Asia outside India, in addition to everybody inside the Indian subcontinent, leaving the British speechless and scared to their core.
And, his was not just a tentative Government. As we saw in the previous chapter of this series, as many as 11 countries lent the Indian National Government their full recognition. There was a well-defined Council of Ministers with neatly drafted operational structures. There was a whole range of rules, regulations, administrative procedures as well as laws on whose strength the Government's judicial system worked. There was a massive welfare activity, too, for the deserving Indians, and every penny earned by the Government was dutifully and meticulously recorded and used with a sense of responsibility. Countless lakhs of people donated everything they had to Netaji, and he asked every official to care for it as national property.
An anecdote, too, is available to suggest that the Indian National Government returned every possible donation to original givers once it became known that the war may not be fought on, and a complete surrender of the Japanese may force the INA to give up war effort.
The matter to be noted at this point is that even in the din of the World War and the hectic activity which Netaji Bose set in motion, he had the time and inclination plus intelligence to apply his mind to the smallest of details of governance and administration and conceptualise a truly welfare state -- whose writ worked on a vast expanse of the Indian Ocean and dozens and dozens of places in the Indian mainland's eastern sector. Every account proves that the Indian National Government was a complete entity by any and every definition.
This offers us one reason to feel a sense of gratitude to Netaji Subhas Chandra Bose -- particularly in comparison to the mess India suffered from immediately after August 15, 1947. There can be multiple reasons the explain the difference, some justifiable and some not. Yet, given the shortage of everything for Netaji was on the move all the time -- 24x7 -- he had the wherewithal to put together a fully operational Governmental machinery, which should be treated as a tribute his divine substance.
The purpose here is not to debunk something only to highlight Netaji. The purpose is to put before the people a wider picture that transcends any political motives by anybody, on either side of the line. The purpose is not to debunk any other leaders of India at that time, but the main motive is to bring to fore as complete a picture of what Netaji Subhas Chandra Bose means to us.
Not much has been said about the military campaign of the Indian National Army (INA). Many accounts are laudatory, all right, and only a few discuss the military and strategic merit of that terrific war effort. But if military details form one part of the story, the other part belongs to the tales of leadership success -- on technical as well as moral ground.
The philosophy that Netaji gave the INA as a set of base values was simply amazing. The first and foremost premise on which that military campaign stood was that it was an action owned entirely by Indians and no Japanese officer would every have any say in the stated or unstated objectives.
For a man who depended fully on the Japanese, Netaji had the courage of conviction to insist upon his full freedom of thought and action. At no stage did Netaji ever allow the Japanese to have an unnecessary upper hand in decision-making. He and his Indian colleagues made every decision on merit and autonomously. That is the reason why there is not one example when the Japanese thwarted any of the decisions of Netaji Subhas Bose.