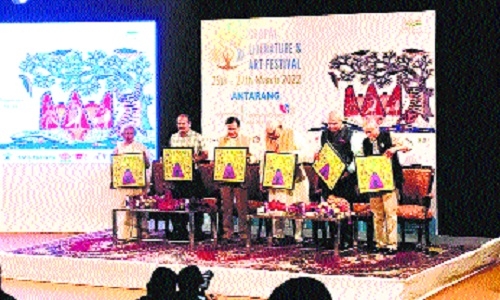 Staff Reporter
A confluence of arts, literature and intellect the fourth edition of Bhopal Literature Festival 'Knowledge Kumbh' began at Ravindra Bhawan in the state capital on Friday March 25.
The inaugural session witnessed the launching of four new books of authors and the unveiling of mascot- a painting by Padma Shri Bhuri Bai- in the eminent presence of six guests of honour. Renowned authors former Chief Election Commissioner S Y Qureshi, senior journalist Uday Mahurkar, Director of Culture Aditi Tripathi, senior journalist Abhilash Khandekar, art historian Meera Das and former IAS and BLF Director Raghav Chandra.
The guests of honour felicitated the writers whose books were launched in the inaugural ceremony with the painting of Bhuri Bai. Those feted were Ambreen Zaidi (The Warrior Widow), Dr H S Pabla (Laws at War), Mr Abhilash Khandekar (The Scindia Legacy) and Dr Pradeep Kapoor (The Honeymoon).
Addressing the inaugural session, IAS Chandra said, "Bhopal is emerging as 'Knowledge City' and events like Bhopal Lit Fest provide a platform to scale not only Bhopal but also Madhya Pradesh at international heights."
He further said that youth today are more engaged with social media and refrain reading books. An event like BLF inculcates reading and writing habits among the youth which also develop a sense of critical thinking and analytical writing.
Shedding light upon the sessions, the former IAS told the listeners that Defence Ministry of India has also co-ordinated with BLF and so many sessions are focused on gallantry.
Sessions were being organised simultaneously at two galleries of Bharat Bhawan viz a viz Antarang and Vagarth.
The first session held at Vagarth gallery was titled 'To Be or Not to Be, Disappearing Livelihoods, Aparna Karthikeyan in conversation with Dr Madhu Verma'.
Aparna Karthikeyan, who wrote 'Rs 9 an hour', shared her experience with the audience about how she came up with the title. Karthikeyan emphasised how we Indians wear culture as a badge of honour and have to pay a lot of cost to consume it. The cover photo of the book shows a man braving a palm tree to collect saps. The author says professions like these are pursued only by people of lower communities. Her book revolves around discrimination and inequality in wages. The author brilliantly answered questions rose by the audience and advised them that only by engaging more with people of lower communities we will know their plight. Parallely held at Vagarth gallery the first session was Wildlife Conservation: Success or Failure, H S Pabla in conversation with Abhilash Khandekar and Professor Yogesh Dube. Mr Pabla said that in 2007 he thought of writing a book but could complete his book in 2015. This book named Laws at War is the third book in the trilogy series penned down by Pabla.