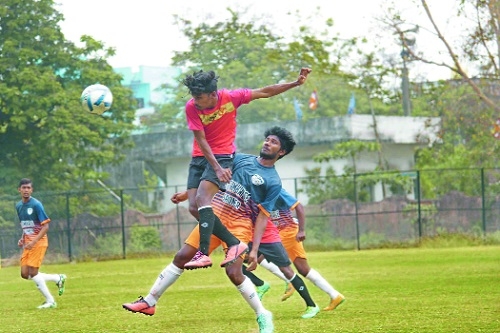 Principal Correspondent
INDIAN Friends Football Club, (IFFC) Chankapur 'B' and Al Fateh FC stormed into the semi-finals of the JSW Senior Division Football Championship by defeating their respective rivals on Friday.
While IFFC Chankapur rallied from a goal down to beat Nobel Football Club 2-1, Al Fateh thrashed Young Junior Boys Gumgaon 4-0.
Birsa Munda and Green Flag, who won their quarter-finals on Thursday, will lock horns in the semi-finals on Sunday while IFFC Chankapur and Al Fateh will square against each other on Monday. Both the matches will be played at 3 pm at NDFA's Dr Ambedkar Football Stadium in Suyog Nagar.
In the first quarter-final of the day, Nobel Football Club stunned the team from Chankapur with a goal just under half an hour mark. Manoj Guriya bulged the net to put his side ahead.
But IFFC boys worked hard and found the leveller in the 34th minute of play when Shekhar Sahu collected a beautiful ball over the rectangle and drilled it into the net to make it 1-1.
Two minutes into the second session, IFFC's Aayush Kesri put his side ahead for the first time in the match with a beautiful goal. They then managed to hold the slender lead for more than 40 minutes to make semis.
The last quarter-final was a one sided affair as Al Fateh crushed Young Junior Boys Gumgaon 4-0 with a second half blitz. After a goalless first 45 minutes, Al Fateh found their form and scored goals at will with Mohammad Umaid (50th) scoring the opener.
Shafiqur Rahman (60th) doubled the lead and then Mohammad Shaquib (75th) scored another. Mohammad Irshad sealed the deal in the 78th minute of play.