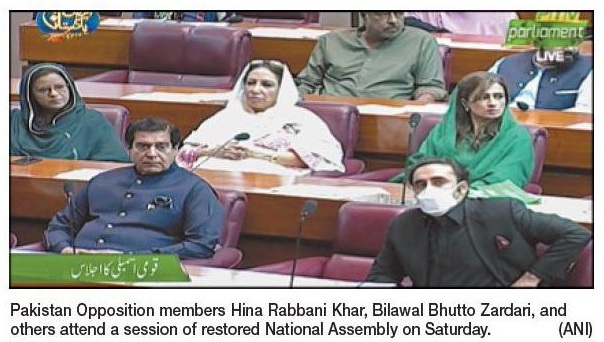 ISLAMABAD :
LIVING up to his own resolve to fight until the "last ball", Prime Minister Imran Khan sprang late-night surprises upon the nation by reportedly sacking an unnamed but very important person in the official system, and asking the National Assembly Speaker Asad Qaiser not to allow the no-trust motion to be put for voting. Responding quickly to the Prime Minister's move, the Opposition, too, moved into Islamabad High Court a petition seeking to restrain Imran Khan from sacking any key person -- with observers suspecting that it was Army Chief General Qamar Bajwa to have got axed. Meanwhile, television images were available late night that military personnel had moved to encircle Pakistan National Assembly, in addition to reports that Imran Khan's security had been removed.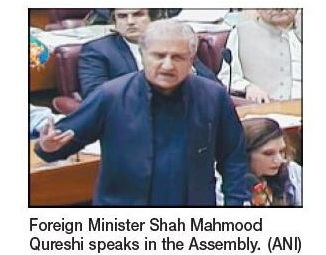 In sum and substance, thus, Pakistan has been caught up in a political-legal-and-military deadlock. Reports also floated out of Islamabad near midnight that Supreme Court judges have reached the court whose doors were opened ahead of their indicated arrival, to hear the review petition by Pakistan Teherik-e-Insaf party headed by the Prime Minister seeking a reconsideration of the Supreme Court's Thursday decision. The day opened with restoration of the dissolved National Assembly, with the Opposition pitching for an early green signal to hold voting on no-trust motion. However, Speaker Qaiser refused to concede the request, and asked Foreign Minister Shah Mahmood Qureshi to represent Imran Khan. While the Opposition's prime ministerial nominee Shehbaz Sharif urged Speakar Qaiser to conduct the proceedings of the House as per the Supreme Court's direction and "rewrite history", the Speaker said that he would not allow the no-trust motion against Imran Khan whom he knew for decades.
He said, he did not mind being punished for that refusal if formed a contempt of the Supreme Court. Foreign Minister Shah Mahmood Qureshi said that the Opposition had the right to table a no-trust motion against the Prime Minister, but asserted that defending it was his obligation. "We intend to fight it in a constitutional, political and democratic manner," the close aide of Khan, asserted. Talking about constitutional violations, he said that it was obligatory "on us to respect the Constitution". "As the Prime Minister said yesterday, he is disappointed but has accepted the court's decision," Qureshi said, referring to Khan's address to the nation on Friday. Speaker Qaisar adjourned the session until 12.30 PM (13:00 IST) after slight disturbance between the treasury and opposition benches. The session, however, resumed after more than three-and-a-half hours of break.