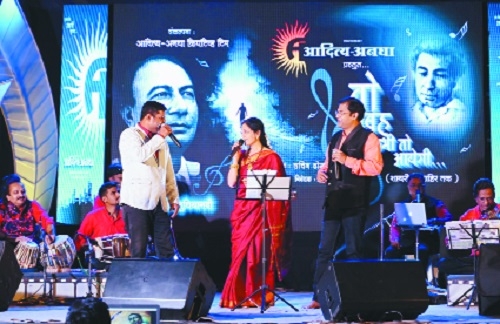 Business Bureau
Aditya-Anagha Multi-State Credit Co-operative Society Ltd., Nagpur, is one of the renowned names in the field of the credit co-operative society. It is non for its innovative steps initiated for the welfare of its customers and the society at large.
As there were no social and cultural events during the recent phase of COVID-19 for a very long period, the creative team of Aditya-Anagha Credit Co-operative Society recently conducted an event 'Wo Subaha Kabhi To Aayegi".
The programme based on Hindi songs was held at Sai Sabhagruha, Shankar Nagar on Sunday, says a press release issued here.
The programme was a tribute to an Indian poet and film song lyricist - Sahir Ludhianvi, who wrote in Hindi and Urdu languages. 2022 is the centenary year of Sahir Ludhianvi.
President of the society Shyam Tambekar, Secretary Shridhar Lande, Director Vishal Gurao, Director Sanjay Deshmukh, Director Kishore Changole, other office-bearers, members and others were present on the occasion.
Aditya Anagha is a process and system driven organisation which is known for "Cooperative Society with a Corporate Touch". The society has maintained its consistent track record of business development, profitability, productivity, payment of dividend to its esteemed shareholder's and bonus to staff members.