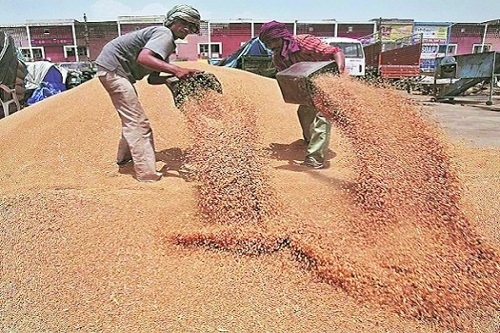 Business Bureau
After an interval of so many years, the wheat prices in the wholesale market have swelled by 25 per cent that too when the fresh agriculture produce has arrived in the month of the April. Sources attributed the sudden jump in prices to various reasons. In order to fulfill the need of the people, India used to import huge quantity of medium category wheat from Ukraine. However, due to war between Russia and Ukraine, the import has been completely stopped. This has created a huge gap between demand and supply. Every year, India used to import 50 lakh tonne to 60 lakh tonne of wheat. The imported quality of wheat is highly in demand from millers, sources said.
Instead of feeding the Indian population, Government is exporting wheat to countries like Russia and Sweden. This too has resulted dearth in the supply chain. Pratap Motwani, Secretary of The Wholesale Seeds and Grain Merchant Association while talking to The Hitavada said, "This season when wheat has arrived in the market in month of April, the prices have suddenly jumped to unprecedented level. People are feeling the heat of the prices. There was unfavourable climatic condition which has affected on the production of wheat in the country. The wheat growing States have seen drop in the output which contributed to the inflationary trend in the commodity."
Another reason, he felt for the surge in the prices of wheat is due to increasing prices of petrol and diesel. The prices of petrol and diesel are daily rising northwards resulting into rise in transportation cost. Farmers who are coming to marketyards and mandis are adding the transportation cost to the wheat which is lifted from growing centres and unloaded at the respective marketyards. Traders demanded that Government should immediately stop exports of wheat and contain the prices otherwise the situation will be pathetic. For instance, in the wholesale market, the prices of MP Bot (best quality) is being quoted between Rs 3,500 and Rs 4,000 per quintal. MP Bot (Tukdi) grown in Rajasthan is in range of Rs 2,800 to Rs 3,200. It is difficult for common man to identify MP Bot and MP Bot (Tukdi). Lokvan- Rs 2,700- Rs 3,000. Mill quality--Rs 2,300- Rs 2,400. Jaishriram (Gavrani)- Rs 4,500- Rs 5,000. Jaishriram (Karnataka)- Rs 3,500 to Rs 4,000. Even, Chinnor rice is also witnessing rise in prices. It is in the range of Rs 5,000 to Rs 6,000 per quintal. At retail, the prices are quoted upward by Rs 5 to Rs 10.
Traders said that in the coming months, there will be surge in the prices of MP Bot (best quality) by Rs 1,000 to Rs 1,200 per quintal. The similar trend will be seen in the other categories of the wheat. As the prices had joined the inflationary trend, the other items like bread, maida and rawa will also be costlier.