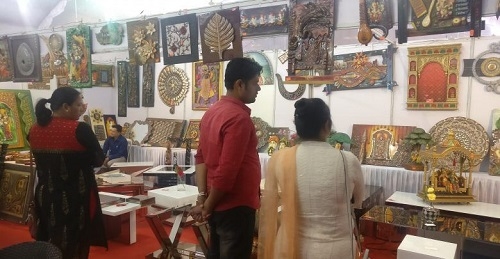 Business Bureau
Central India's most prestigious Vaastuvision Exhibition, a property exhibition, is going on at Bishop Cotton School Ground, Civil lines, Nagpur from April 21 to 25, with a concurrent show of e-vehicle, furniture and lifestyle exhibition. If you are thinking of adding a personal touch of glamour to a corner of your home, this is your chance to find some super-cool stuff from across the country all under one roof.
The expo is showcasing all types of home and office furnitures like sofa sets, dining table, bedroom sets, garden furniture, wrought iron furniture, ethnic furniture, space saving foldable furniture etc. along with electronic home appliances like new range of refrigerators, ultra smart LEDs, washing machines, kitchen chimneys and accessories.
The home interior segment has latest wallpaper designs, paintings and murals, brass artefacts, antiquities, etc. The highlight of this exhibition is e-vehicle. Taking into consideration the hike in petrol rates, e-vehicles are the solution to it.The home furnishing segment have immense range of products which caters to the contemporary and modern lifestyle of today. A good opportunity to buy latest and attractive home decor items of your choice for your home, all under one roof. The expo remains from 03.00 pm to 10 pm. For more information, contact Vijay Rathi: 9373122021.