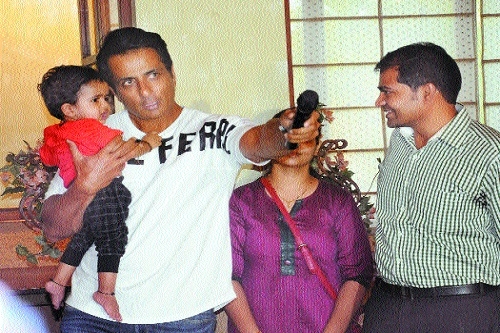 Staff Reporter
Actor philanthropist Sonu Sood on Friday sought financial help for treatment of a 15-month-old Nagpur boy who requires the world's most expensive drug (injection) worth Rs 16 crore to survive.
Addressing a press conference, actor Sood, who arrived especially for fundraising, said that Vihaan was diagnosed with a rare Spinal Muscular Atrophy (SMA) and the injection was required as a part of gene therapy treatment. "A total of Rs four crore have been raised so far and remaining amount will be raised with the help of citizens," said Sood.
Zolgensma injection is the only treatment option available to cure SMA and it is impossible for the family to raise such a large sum all by themselves. Vihaan's parents Vikrant and Meenakshi Akulwar were also present in the press conference with him. "We have been able to collect a quarter of what we need for the treatment," said Vikrant Akulwar, Vihaan's father and urged people for help.
The account details are -- Account Name - Meenakshi Akulwar; Bank Name - HDFC Bank; Account number - 50100280114461; IFSC code - HDFC0002818; Google pay number -- 9503150341.
Meanwhile, Vihaan's parents Vikrant and Meenakshi Akulwar thanked the celebrities and the generous donors who have helped them. It may be mentioned here that many bollywood celebrities have appealed to people on social media to help Vihaan. Actor Abhishek Bachchan has appealed to his followers on social media to extend financial help to the boy. Similarly, popular actors and actresses like Kumud Mishra, Ruturaj Wankhede, Sumit Vyas, Marathi film actress Rasika Sunil, Shubhangi Latkar, TV actor Gunjan Utreja have also appealed for donations. Actors Ranvir Shorey and Manoj Bajpayee have also retweeted the call for help on Twitter.